Place: Aladin Indian Restuarant
Location: Brick Ln, London
Cuisine: Indian
Meal: Dinner (with wifey and our lil one)
On: Sunday, 26 June 2022
On a lazy Saturday afternoon, we were in the neighbourhood to get our Indian groceries but were hungry as well, so we decided to hog first. Brick Lane is a street full of Indian and Bangladeshi food joints, with people calling out to you while walking on the street to try their restaurants. This was pretty late in the day for lunch (around 4:00 PM), so most of these eateries were empty. Not wanting to be the only patrons, we decided to walk into a restaurant that had at least a few tables occupied, and this turned out to be Aladin.
Located right opposite Brick Lane's Food market (Upmarket) which houses some international food stalls, Aladin is a sizeable joint spread across two shops and is pretty much on the busy street so can be loud at times. We were led to a table of 6 where 2 seats on either side were already occupied by a couple of girls, and we were like, what? Then the guy separated the table to make it a 4+2 seater with little gap between them. We settled down uncomfortably, for I felt that we were intruding into their space. Almost all the tables were similarly placed, cramped next to each other. On the bright side, the place was brightly lit and looked spacious, thanks to the mirrors on the walls.
The entire staff seemed to be in a hurry which gave it an impression of a fast-food joint rather than a dining restaurant. One of the many guys came with the menus, and without even giving us any breathing space. asked if we wanted papad. I said no without thought, and he removed the pre-set plates from the table. We eventually asked for the papad while placing our order, and he got the plates back along with some condiments
For the main course, we ordered Paneer Pasanda/Korma, a Butter Naan, a couple of chapathis, and a Vegetable Biryani.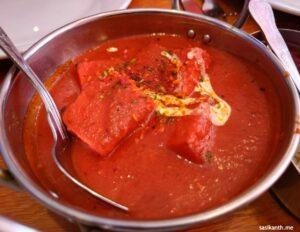 The food was served all at once in about 15 minutes. While the Paneer Korma was decent; the gravy was little on the sweet side and could have been more refined.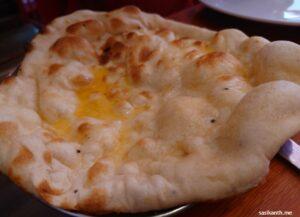 The Naan was full of butter, soft, and tasted good.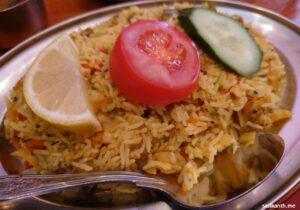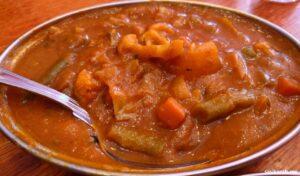 The Biryani was served alongside some Mixed Vegetable Korma. The Biryani, while good, could have had more vegetables and little more masala (and salt) for it tasted bland without the korma, which in itself was alright.
Still hungry, for the portions weren't that great, wifey decided to get a portion of Garlic Rice which was served in a few minutes. This had a lot of garlic, yes, but was dripping in oil. Again, needed salt.
Overall, an average meal. The food was decent but the experience wasn't great. The hustle around us was getting too much to handle. To add to this, a scribbled note was presented to us as the bill for a whopping 40 quid, which I later, after stepping out of the restaurant, realized was at least 7 or 8 quid more than what we should have been charged for what we ordered (and if I read the scribble right, we were charged £2.5 for the papad!). This place is apparently voted as "One of the World's Best Curry Houses'" in London, but I highly doubt they can be anything with this pathetic service.
Food: 7.5/10
Service: 4/10
Ambiance: 6/10
Meal for 3: £39.75
Verdict: 6/10