Place: Prem Di Rasoi
Location: Chirag Ali lane, Abids
Cuisine: Indian
Meal: Dinner (with mom and dad)
It's been a week since I got back to Hyderabad, but have been avoiding eating out (cos I'm scared of the inflation in town). Anyways, last night, we dropped in at this dhaba type restaurant at Abids, suggested to dad by one of his Marwari friends. The restaurant is located just behind Jagdish Market, on Chirag Ali lane. Ambiance wise, the place was pretty neat, and reminded me of Santosh Dhaba (in every sense). We sat in a corner, and were attended to immediately.
Their menu was comparatively short compared to other similar restaurants. We started off with Manchurain, and ordered Kaju Paneer, Punjabi Kofta, Stuffed Paratha, Masala Kulcha and Roti for the main course.
The Manchurain was served right away. They were crispy and pretty good, but I thought they could have been more spicy. The quantity served was decent.
In about 10 minutes, the main course was served. Both the curry's looked yum. Of the two, I liked the Kaju Paneer better. The paneer was very fresh, and the gravy was smooth and delectable. But the reason I liked it better was because it reminded me of Malai Kofta at Shanbhag (one of my favorites in the whole wide world :D). The Punjabi Kofta was good too, but again I would have preferred it to be more spicy. The kofta balls were made up of paneer, and were soft and tender, while the gravy was thick and tasty.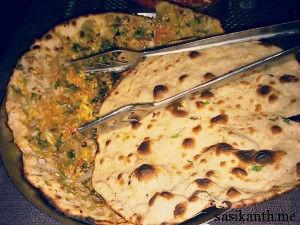 Of the breads, I couldn't differentiate much between the Stuffed Paratha and Masala Kulcha, for they both has same stuffing. While they were palatable, they were not close enough to the Stuffed Kulcha you get at Santosh Dhaba. The roti was soft and good.
To end it off, we ordered a Badam Thandai which was pretty good, but had a lot of cardamom essence, and ice.
Overall, a decent meal. The service was pretty decent, and ambiance was neat. Prices wise, I'm guessing they were very reasonable for the quality and quantity of food served. I'd recommend you try this place for some good Punjabi food the next time you are in and around Abids.
Food: 8.5/10
Service: 8/10
Ambiance: 8/10
Meal for 3: Rs. 692/-
Verdict: 8/10