Place: Rubaiyat
Location: Cyber Pearl, Hitech City
Cuisine: Indian
Meal: Dinner (with my family)
For dinner on my birthday, we (me, my bro, mom and dad) decided to dine at Rubaiyat. My brother just got back from Europe, and was longing to eat some delicious Indian food, so here we were. The place was dimly lit, the ambiance was pretty neat and had a royal Indian touch to it. We sat in a corner at a table for four, but were so close to another table that it seemed as if the couple sitting there was part of our family.
The menu was quite huge and it took us a while to decide on what we were having. To start off, I had a Rubaiyat Colada (Peach Apricot, Pineapple juice and cream). It was served in the next 5 minutes. It tasted good, but was a little too sweet, probably because of the pineapple juice.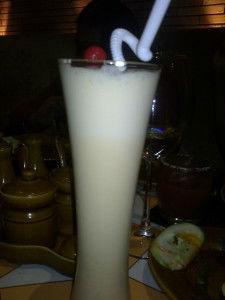 For starters we ordered Paneer Tikka Sofiyani (malai paneer marinated in cream and yellow chilli, char grilled in tandoor and flavored with fennel) and Subz Kakori Tukkri (shallow fried spinach and mushroom kabab crusted with almond flakes).
The kababs were served first and were exceptionally good. The spinach and mushroom were well mixed and tasted excellent. The almond flakes added crunch, and as the description said, the kababs melted in mouth.
The paneer on the other hand was quite a disappointment. They were well marinated, but there was no proper flavor to the dish and therefore tasted bland. It was as if we were eating raw paneer. Instead of finishing it, we wrapped it up and my brother made excellent burji out of it the next day.
The kababs got us pretty full, and we decided to go light on the main course. We wanted to order something different from what we usually have and were interested in Gucchi Palak aur Singada (Kishtwari morels of Kashmir, stir fried with roasted garlic, chestnuts and spinach). We tried asking the waiter what this exactly was but he had no clue. We decided to give it a shot anyways and ordered Masala Kulcha with it.
The morels turned out to be mushrooms, and the curry was something like Mushroom Palak with water-chestnuts. The palak gravy was very good with a strong garlic flavor to it. The mushrooms weren't anything special, and tasted like regular ones. The chestnuts in between tasted quite weird actually.
To finish it off, we decided to have the Choley aur Aloo ki Biryani. The description said that it was biryani cooked with cashew nuts and Choley, but to our surprise, we neither found nuts nor kabuli channa choley, nor the aloo. Instead, we got biryani with black channa. The Biryani was good, but the channa spoiled the taste.
At the end of the meal, instead of a pan, pan juice was served, which I thought was very innovative. It tasted just like a regular pan, yum.
Overall, an average meal, nothing remarkable. Except for the kababs, which were out of this world, everything else was moderate. Though the ambiance was good, the waiters seemed a little rude. Also, the tables being so close together was very inconvenient. The prices were pretty reasonable for a restaurant in this part of the town.
Give it a shot when you get a chance, but don't expect anything great. Do try the kababs!
Food: 8/10
Service: 7/10
Ambiance: 8.5/10
Meal for 4: Rs. 2263/- (with a couple of drinks)
Verdict: 7.5/10