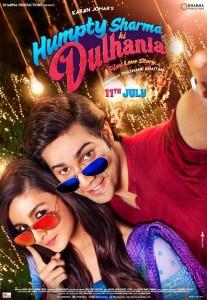 Dilwale Dulhaniya Le Jayenge released 19 years ago, and 16 years since the release of Kuch Kuch Hota Hai. They were good movies, alright, but I really don't think they are classics in any sense. Dharma movies seems to think otherwise.
Scripted and directed by Shashank Khaitan, the movie kicks off with our engaged heroine, Kavya flirting around with the hero, Humpty. Soon, as expected, they fall in love, and the rest of the story is about how our beloved Humpty convinces Kavya's dad about their love. Sounds familiar na? While Shashank's take on the story is pretty good, it is too predictable, and you start to wonder if you actually paid money to watch a rerun of a bunch of films. The first half is well executed, and then he loses it. Direction isn't great and the screenplay is absolutely shoddy. And the climax was too filmy even to be featured in a film!
On acting front, Varun shines big time. He's got a lot of energy and this is apparent on-screen. Alia on the other hand surprises me. While she was pretty good in 2 States, it looked like she refused to act in this film. She has the same expression for most of the movie. She's got the looks and the nakhras, but no, she doesn't act. Ashutosh Rana is pretty good as Alia's dad. He can actually groom himself to be the next Amrish Puri. Siddharth Shukla is alright. Humpty's side kicks Gaurav Pandey and Sahil Vaid are really good.
Music by Sachin – Jigar and Toshi Sabri is more or less mediocre. The only songs I liked were "Samjhawan" and "Daingad Daingad". But for in the climax, editing by Manan Sagar was alright. Cinematography by Neha Parti Matiyani was very good.
Is it worth your time and money??: It's a timepass movie. But honestly, you can give it a skip unless you have nothing better to do. The only plus point is Varun, nothing more.
Worth mention: The gay episode in the second half was hilarious.
Acting: 7.5/10
Story-Screenplay-Direction: 5/10
Technical Aspects: 7/10
Verdict: 6.5/10