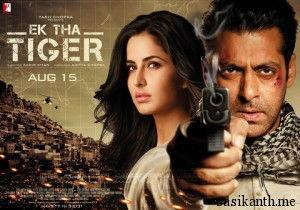 Ek Tha Tiger is not a regular Salman Khan film. There are no cheap jokes, nor is it another of his harebrained potboiler. Instead, it is a pure action packed entertainer, and Salman is the new Jason Bourne of Indian cinema.
Though the story of Ek Tha Tiger is heavily inspired from various Hollywood blockbusters, Aditya Chopra (Story) gave it a fine Indian touch, and director Kabir Khan was able to pull this story off effectively. Though silly at times, Kabir made sure that the action episodes are very well shot. Unfortunately though, he couldn't do justice to the pensive shots. Both Salman and Katrina looked out of sorts in such episodes. Otherwise, the direction is pretty good. Screenplay by Kabir and Neelesh Misra, though a tad bit slow at times, is effective.
Salman Khan is a perfect fit for the role, and was able to breathe life into Tiger's character. He looked cool and dashing in the action episodes. Katrina Kaif was good, but I thought she looked pale for most of the film. She had quite a few action sequences herself, and she pulled them off with ease. Ranvir Shorey and Girish Jarnad were apt.
Music by Sohail Sen and Sajid-Wajid is decent. For an action entertainer, there are not many songs in the film. Background score by Julius Packiam is good. Editing by Rameshwar S. Bhagat could have been better for the film seemed a little too long. Cinematography by Aseem Mishra is awesome. Landscapes of Iraq, Turkey and Cuba looked breathtaking. The action episodes were very well choreographed. Production values by Yash Raj are of top-notch quality. The film looked very very grand.
Overall, an entertaining film. While Salman, action episodes and the grand visuals are the plus points, the at-times slow narration is a big negative. It's very different from the recent Salman Khan films, which in itself is a very good thing. Give it a shot. Am guessing that you won't be disappointed.
Acting: 8/10
Story-Screenplay-Direction: 8/10
Technical Aspects: 9/10
Is it worth your time and money??: Yes!! I thoroughly enjoyed the movie. It's very slick and very well shot. Not a treat for Salman Khan fans, but a good movie nevertheless.
Verdict: 8/10