Last week, decided to take the gravy I cooked to the next level. With a few minor modifications, and addition of aloo, here is the new recipe.
Ingredients Required
1 cup Potato cubes, 1 Onion, a handful of peanuts and cashew nuts, Maggi Masala cube (if available), Garam Masala powder, Coriander powder, Cumin powder, Chili powder, 2 spoon Curd, Salt, Oil/Butter.
Procedure
Heat the pan and fry the onion, peanuts and cashew nuts with a little oil or butter, and then turn off the flame. Once they cool off, put these into a mixer grinder and make a fine paste. Heat some ghee or butter in a pan and fry the cumin seeds. Next add the fried paste and let it cook for a while. Add all the masala, chilli powder and salt and simmer it for 10 more minutes. Add the curd and the potato cubes, and simmer until aloo is cooked. Add some cooking colour if desired. Garnish with cashew nuts and coriander. Yummilicious Aloo Korma is ready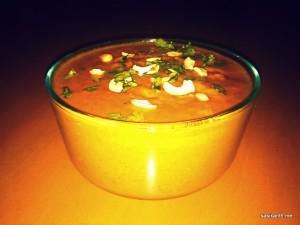 Preparation Time: 5 minutes
Cooking Time: 30 minutes
PS: You can pre-boil the cubes potato pieces in a microwave to reduce cooking time.