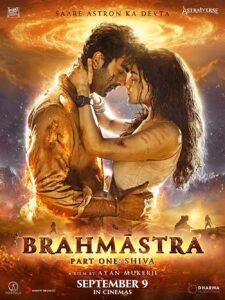 Brahmastra was announced in 2014, back when Alia was 4 films old, and Ranbir was dating another co-actor. Post multiple changes, the pandemic, and more changes, the film was finally released six years after its intended release of December 2016. So much has happened in the world since the announcement; Alia is now about 20+ films old, and now married to Ranbir. Anyhow, whatever the delay, what matters is the output. So, does part one of this trilogy deliver?
In one of the interviews, director Ayan Mukerji stated that he was fascinated by Hollywood action movies, particularly Marvel and other superhero films, and wanted to make Brahmastra on par with such films. He does make a grand film, yes, but what does grandeur do when you have a mediocre script and absolutely no idea or vision of what you want to showcase? You get a badly screen written and directed, incoherent dud!
Shiva, played by Ranbir, is a DJ in Mumbai. He is smitten by Isha (Alia) and stalks her on their second encounter, she acknowledges, they then go to his room where he shares his life story, she cries and holds his hand. Shiva suddenly has visions, acts strange, and asks her to leave. They meet the next day, he describes his visions and resolves to travel to Varanasi to aid someone. Isha decides to travel alongside him, and that, ladies and gentlemen, is their love story.
One day, not even 24 hours, is what it took for Isha to run away with Shiva, all based on what he told her. There is no information on her parents, what she does (but for she's rich and is from London), no further information on DJ Shiva apart from what he tells her (he could be a stalker, psycho, murderer or anything), has a daura/seizure where he acts strange and pushes her away. But she still decides to travel with him saying Shiva ke saath Isha (Parvati) hamesha rahegi!
This ridiculously shallow love story is the base for the plotline where they discover that love is the biggest astra of them all. Now don't ask me what an astra is, or why Shiva has these episodes, visions or seizures (whatever you want to call them). You have to suffer like I did to find out more.
Ranbir and Alia are good on screen and their chemistry is apparent. But their underdeveloped characters make them look silly on multiple occasions. Some badly written dialogues don't help either. Not just them, every character is underdeveloped and lacks a proper arc. Amitabh is alright as guruji but looks odd performing some of the action sequences. Shahrukh Khan and Nagarjuna do justice as keepers of Brahmastra. Dimple Kapadia is underutilized. The rest of the cast and casting is terrible. Mouni Roy is terrible as the lead on-screen antagonist for she does not have the stature or the persona to breathe life into the character. Her two minions were even more ridiculous.
Music by Pritam is passable. But for Kesariya, no other track makes an impact. The background music is not to the mark either. No comments on the editing by Prakash Kurup or the cinematography by a bunch of people; I feel there was nothing they could do to make this film better. For a movie with tons of money spent on VFX, the output is mediocre.
Is it worth your time and money?: What happens when the director has no clarity or vision of what he wants? Brahmastra! Unless you have loads of patience and undying love for the lead pair, avoid this dud. I can't believe it has two more parts to it.
Worth mention: The only saving grace is the chemistry between Ranbir and Alia.
Acting: 6/10
Story-Screenplay-Direction: 4/10
Technical Aspects: 5/10
Verdict: 5/10
PS: I was sitting next to three VFX artists who worked on the film. They too were disappointed with the overall output (including the VFX), and spoke at length about how the director made them change the effects innumerable times over the years for he did not know what he wanted.
On another note, they confirmed that Deepika plays Amrita, Shiva's mom, and there is a possibility that his dad, Dev, is Ranveer Singh. Now that's something!