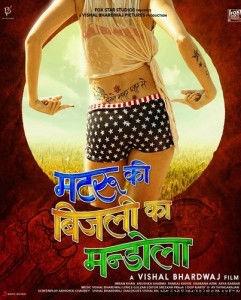 Matru Ki Bijlee Ka Mandola is a fun movie, but is unnecessarily long which makes you yawn over and over again. Vishal Bhardwaj tried to put in a lot of content into the movie, and in the process lost track. The movie starts off well, and there are certain epic episodes. But overall, dragging and long redundant shots are more in number when compared to the good ones. Screenplay is weak and could have been better.
On acting front, Imran Khan is alright as Mandola. The shabby look suits him. Anushka is super hot as Bijlee. The oomph factor is all there. But the clear winner is Pankaj Kapoor for he was brilliant in every shot and lit up the screen on fire. Shabana Azmi was equally good.
Editing could have been way better. The 148 minute movie would have been much effective it were cut short to somewhere around 120. Cinematography by Kartik Vijay is decent, while music by Vishal Bhardwaj could have been better.
Is it worth your time and money??: Depends. While the main intention of the film gets lost, you can still watch it for the humour and Pankaj Kapoor (and appreciate Anushka's hotness!!).
Acting: 8/10
Story-Screenplay-Direction: 6.5/10
Technical Aspects: 7/10

Verdict: 7/10