Place: Ohri's Banjara
Location: Road No. 12, Banjara Hills
Cuisine: Desserts
After finishing our dinner at Veggies 365 the other night, me and my friend headed off to Ohri's for some ice-cream. This place is an extension of the original Havmor, now changed to Ohri's Eatmore at Basheerbagh, one of the oldest ice-cream places in town, also famous for their excellent Chole Batura. So here we were to try some of their yummy deserts.
I was more in a mood to have an ice-cream shake than an ice-cream itself, so ordered myself a mighty Big Chill, and my friend ordered the classic Tutti-Fruitti.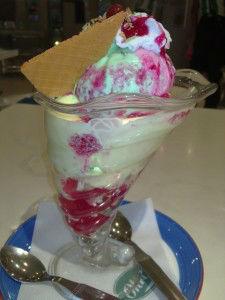 The Tutti-Fruitty was served first in about ten minutes. It had scoops of Pista, Strawberry and Vanilla ice-creams, with different fruits at the bottom, topped with jelly and different sauces. Awesome!!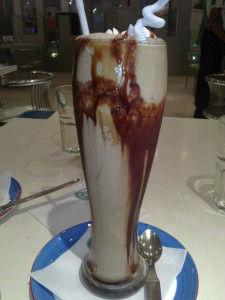 The Big Chill has been one of my favorite shakes for a long time. Its Chocolate Cold Coffee served with Vanilla ice-cream, with chunks of Brownie, topped off with whipped cream, served in a very tall glass. The combination is heavenly. The quantity is so good that you'll have to struggle to finish it. Let me warn you that it might be an overdose of chocolate!
Overall, yummy stuff. The ambiance is nice, and you can relax for as long as you want. The service is pretty good as well. If only Ohri's didn't tax you so much for the deserts turned out to be more expensive than the dinner. But still, go try the Big Chill now!!
Desserts: 9.5/10
Service: 8/10
Ambiance: 9/10
Damage: Rs. 320/-
Verdict: 9/10