Place: 100 Degrees
Location: Necklace Road, Ranigunj, Secunderabad
Cuisine: Continental
Meal: Dinner (with mom and dad)
After a long long long wait, I finally got to visit my favorite restaurant in the town. I once used to be regular customer of this place, but it's been a while since I've last been here. It's a place with great ambiance. The closed is section is dimly lit, with a wine cellar feel to it. The atmosphere is really good, but the place can get really loud when it's packed. They have party rooms and terrace area facing Hussain Sagar. We sat at a corner table on the terrace. The view from up here was pretty good.
I kinda already decided on what I wanted to have, so it didn't take much long for us to decide on our order. We ordered a Spicy Cottage Cheese Pizza as a starter, Crumbled Melting Cheese Sizzler and Ajwaini Tandoori Paneer Sizzler for the main course, and a Vanilla French Kiss Mocktail as a thirst buster. The guy taking the order was decent, but he seemed to lack enough knowledge on the menu.
We asked our waiter to get us some bread before the meal was served. I asked for warm bread, and two portions of excellent bread was served.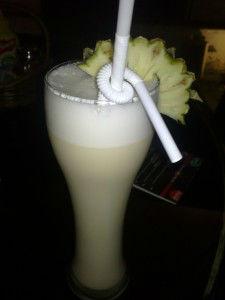 The mocktail was very well presented, and served in about 10 minutes. It was a mix of peach, orange and pineapple juices with cream. It was yum. Mom loved it.
I've been craving to have their pizza for a while now for I think they serve the best pizza in town. And I wasn't disappointed. It was amazing. Not very thick crust (neither too thin), perfectly baked, and cheese melting in your mouth. Add to that the crunchy veggies and spicy paneer. Heaven!!
We were pretty full by the time we were done with the bread and the pizza, even before our main course was served. We were even contemplating on canceling one of the sizzler, but they were already out.
I've already tasted the Crumbled Melting Cheese sizzler once before, and it looked delicious. Like always, though I knew it was gonna be piping hot, I couldn't stop the temptation and burnt my mouth. It was cheesy and creamy, just the way I like it. The cottage cheese cutlet was well cooked and had a good flavor to it. The barbecue sauce on top, and fried rice served underneath were yummy. Overall, excellent!!
I ordered the paneer sizzler with an Indian touch for Mom and dad. It was spicy, and had a very authentic taste to it. The huge chunks of paneer were well marinated and cooked, and the gravy was pretty tasty. It kinda felt like having Pulao with Paneer Tikka Masala, with loads of vegetables in between. Again yummy.
Overall, an awesome meal. Right from the bread, everything was great. The ambiance is excellent and service is pretty neat. Only problem with the waiters was that they did not understand English, and so everything had to be translated into Hindi. But they were sweet, and made us feel comfortable. Of all the Ohri's restaurants in the city, I think this place has the best value for money, for it ain't as expensive as other restaurants in their chain. The buffet they serve is also pretty decent and reasonably priced. But again, as it is with every Ohri's restaurant, the tax is exorbitant (200 bucks for a bill of 800).
This place definitely serves the best pizza in town (not the one served with the buffet, please). Go grab a bite soon, and do let me know if there's anything better than what they serve, cos I'd love to try it 🙂
Food: 9/10*
Service: 8.5/10
Ambiance: 9/10
Meal for 3: Rs. 1006/-
Verdict: 9/10*
*With some feedback, and my own prior experiences, I'd like to make a note that this place is pretty inconstant on their food quality. I was served good food on this particular night, and I guess I was lucky. Make sure that you ask the manager for a replacement in case something's wrong (these guys are pretty good on their customer relations). And please do provide your feedback on your experience in the comments.