Place: Little Italy
Location: 6-7 Irving St, Leicester Square
Cuisine: Italian
Meal: Dinner (with a cousin, wifey, and our lil one)
On: Friday, 26 August 2022
One of my cousins was in London for a day, and we decided to take her around the city. We covered Tower Bridge, Westminster, Big Ben, Trafalgar Square, and Picadilly Circus in a couple of hours, and finally decided to dine at Little Italy at Leicester Square. While you'd hope that it is the same Little Italy chain from India and the Middle East, unfortunately it isn't.
The restaurant is located on a street full of Italian joints, most of which packed for a Friday evening. I actually wanted to try Vespa Italian restaurant next door, but these guys had better vegetarian options. We decided to sit on the street for it was a lovely evening, and were offered a table right in the front. The place was abuzz and the vibe was great. Maybe a little loud, but still fine.
We decided to do a portion of Garlic Mozzarella Bread, a Vegetarian Pizza, Ravioli in white sauce, and a Vegetarian Lasagne. I also ordered a bottle of coke for myself.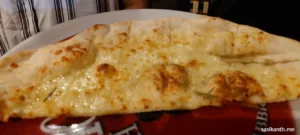 The Garlic Bread was served in about ten minutes and tasted delicious. The bread was super soft, and with enough garlic and cheese, this was a great start to our meal.
The pizza was served soon and I was mighty impressed with its size. With tomatoes, mushrooms, olives, onion and aubergine, this pizza was excellent. The crust was very good and we loved it!
The Lasagne and Ravioli were served together and while I had asked for the latter in white sauce, they served it in red sauce. They immediately offered to replace it without any fuss.
The Lasage was alright, but we thought it was too tomatoey. The updated Ravioli in white sauce needed some salt and pepper to be added, and it again tasted really good.
Overall, an excellent meal. But for the Lasagne, all the other dishes were yummy. The service was great, and no qualms about the ambience. However, the food is pricey and a meal including the service charge is heavy on the pockets; but I guess that is expected when you're dining at Leicester Square. This is definitely a good Italian find in London.
Food: 9/10
Service: 8.5/10
Ambiance: 8.5/10
Meal for 4: £70.15
Verdict: 8.5/10