Place: Mozza
Location: Opp. Krishe Sapphire, Madhapur
Cuisine: Italian
Meal: Lunch
I'd heard quite a bit about this new Italian restaurant in town and wanted to give it a try for a while now. I finally got my chance thanks to a foodie meet. Mozza is a small place in the same building as Veggies 365 (now closed). It's got nice interiors, and has decent ambiance. I made myself comfortable at a corner table with fellow foodies.
Like with most foodie meets, there was a special menu for the day. Off a list, we were to choose for a starter, pizza, pasta, dessert and a soft drink. For starters, the listed options were Baby Potatoes in Parmesan sauce and Stuffed Mushrooms. I chose for the latter.
I had a taste of the potatoes, and they were pretty good. I would have preferred the potatoes to be little more parboiled, but nevertheless, the sauce was creamy and it was a good start to the meal.
The Stuffed Mushrooms looked yum and tasted yum for there were stuffed with cheese and were fried perfectly.
For the pizza, we had the option of Sicily-pesto sauce based and Imperia. I chose the pesto pizza while my fellow vegetarian foodie chose Imperia, so that we could share.
The Pesto pizza had sun dried tomatoes, onions, mushrooms, olives and peppers. I had asked for the pizza sans peppers, but given the foodie rush, I got one with them. The pizza was pretty good and cheesy, but there was too much pesto sauce on the base which dominated over the veggies and cheese. That apart, a decent pizza.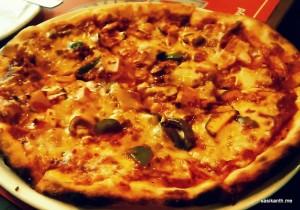 The Imperia pizza had a mix of peri-peri vegetables and looked quite colourful. While it tasted good, this too had too much tomato base which was overwhelming.
For Pasta, we had a choice of Alfredo and Paprika, and most (like me) chose Alfredo. This happened to be the only disappointment of the meal for the pasta was very dry and lacked flavor.
For desserts, there were Lemon Cake and No Flow Choco Lava Cake. The Lemon Cake tasted pretty good, and so did the Choco Lava cake. I actually liked the latter better.
Overall, a good meal. But for the pasta, everything else turned out to be decent, Stuffed Mushrooms being the winner. Service was alright and so was the ambiance. Compared to other places, everything is reasonably priced. So give it a shot if you haven't yet.
Food: 8/10
Service: 7.5/10
Ambiance: 8/10
Meal for 1: Rs. 350/-
Verdict: 7.5/10