Place: Mayura House
Location: Opp. Film Nagar Club, Film Nagar
Cuisine: Indian
Meal: Lunch (with amma and dad)
Dad's been wanting to go to this place in Film Nagar for a long time now and so one fine day last week, we headed off for lunch to Mayura House. Walking in, the place looked decent and was partly crowded. We made ourselves comfortable at a corner table, away from the crowd. Both amma and dad wanted to have meals, and so I opted for the same as well.
The meal was served pretty soon and it was quite a sight. It had so many items – four different rice items, dal, three curries, four varieties of rasam/pulusu, vada, poori, a sweet, different kinds of pickles/chutneys and other accompaniments.
The vada was crispy and good. Unlimited number of pooris were served on the meal, and they tasted good along with the aloo korma.
Of the rice varieties, Tomato rice and Sambar rice tasted yum while Pulihora and Biryani were mediocre.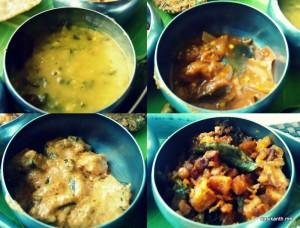 The Dal was decent, and so was the brinjal curry. The korma was pretty good while the raw banana (aratikaya) fry could have been better for it was very dry.
Rasam and Sambar were both alright. Majjiga Pulusu was good, but the best of the lot was the Mukkala Pulusu which tasted yum.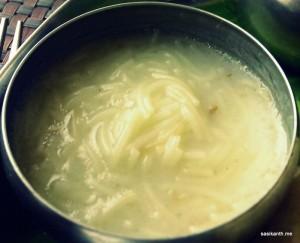 The semiya payasam turned out to be a disappointment for it was very watery, and lacked taste.
Overall a decent meal. Most of the items were tasty, and the quantity served was pretty good. However, the service was absolutely terrible. Forget table service, the servers lacked basic etiquettes of talking to customers. There was a power cut a few minutes after we started our meal and we were told that the generator was being turned on. We started sweating profusely, and when we enquired again after about 15 minutes, we were told that there was no generator in a harsh tone. Their attitude and callousness was bewildering. The place has no fans or windows, and it was suffocating to sit in there. And this apparently is a usual sight during daily power cuts. At this point, we just wanted to finish our meal and get out of the place, not wanting to come back again. When Dad spoke to the manager, they offered us a 10% discount, but still, though they had good food, this was the first and last time I'm visiting Mayura House!
Food: 8.5/10
Service: 5/10
Ambiance: 5/10
Meal for 3: Rs. 540/-
Verdict: 6/10