Place: Mohini
Location: Under Flyover, Basheerbagh
Cuisine: Indian
Meal: Take-away
Dad was passing by Basheerbagh a few days ago, and I wanted him to get some yummy food for me. Choices were Shanbhag or Mohini, and since it's been ages since I had Mohini Biryani, I asked him for the same. Mohini is one of the oldest restaurants in Hyderabad, known for its awesome Biryani, so. I also asked for a Malai Kofta and some Butter Naan.
The Malai Kofta turned out to be very different from the usual (in a good way). Instead of sticking with paneer or aloo for the kofta, these guys also added finely chopped cabbage, which actually made them yummier. The gravy was perfectly cooked, and together, it was one of the best Malai Kofta I've had in recent times.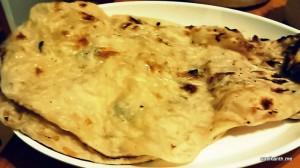 For 22 bucks a piece, the Butter Naan was a steal for they were well-baked naans oozing butter. Excellent stuff!
The Biryani was the reason why I asked for Mohini, and sadly, this turned out to be little disappointing. There was too much masala and it just didn't taste right. The salan was terrible as well. However, the pickle served along turned out to be yum.
Overall, a good meal. While the Biryani didn't live up to the expectations, rest of the meal was excellent. It probably was an off day for the Biryani. Whatever the case, for 230 bucks, it was quite a meal. Total value for money!
Food: 8/10
Service: N/A
Ambiance: N/A
Meal for 3: Rs. 230/-
Verdict: 8/10