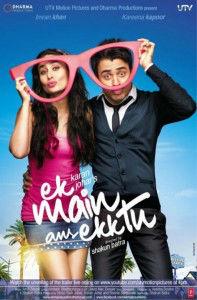 Post Jab We Met, we've had a bunch of chirpy love stories release. Most of them had the same old concept of rich kids (either one) falling in love, then breaking up, and finally ending up together (Anjaana Anjaani, Break Ke Baad, etc). From the trailer, this pretty much looked like one of those films. There were even rumors of it being a Hollywood rip-off. But, Ek Main Aur Ekk Tu is nothing like those idiotic flicks, nor is it a rip-off. It's a very cute little movie with some excellent, if not brilliant performances.
Directed by debutante Shakun Batra, EMAET has its heart in the right place. It is not one of those typical love stories (I would  infact not categorize it as a love story). It's more of a lighthearted comedy with friendship as its backdrop. Imran Khan is getting better as an actor, Kareena, well, is just gorgeous, and their chemistry is great. Perfect casting, decent music, excellent cinematography, slick screenplay, what more do you need to make a good feature film??
Ek Main Aur Ekk Tu might be predictive, but is a very well executed movie with a refreshing feel  to it. Some might not like it, but I did, and suggest you go watch it.
Verdict: 8/10
For a detailed review, read on…
Plot
Rahul Kapoor (Imran Khan) is a parent's pet, one who doesn't live a life of his own. His dad (Boman Irani) expects him to be work for the best architecture firm, while his mom (Ratna Pathak Shah), a fashion obsessed socialite, wants him to work on his hairstyle. Meanwhile, Rahul loses his job. As expected, he bumps into the lovely-lively-bubly Riana (Kareena Kapoor), a girl who lives her life to the fullest. They get 'Talli' one night and end up getting married. They plan on annulling it, but before that happens, spend two weeks together. The rest of the movie is about how these two weeks change Rahul's life.
Artists Performance
Imran Khan has improved so much as an actor. He's getting better and better with every movie. He's fantastic in the serious episodes, and pretty good at comedy. Though his mom keeps going on and on about his hairstyle, I kinda liked it. I strongly feel that he's got the potential to make it big, but he definitely needs to try different things instead of working in films with similar genre (something like Delhi Belly more often).
Kareena Kapoor plays Geet all over again, but its more of a dignified and controlled performance this time around. She is the soul of the film, and looks gorgeous. Being a senior artiste, she gives Imran enough space, and not once overshadows him.
Rest of the cast is perfect. Boman Irani and Ratna Pathak Shah are an awesome as the obsessive, over concerned parents. Kareena's bunch, each and every one of them, are absolutely fantastic. Ram Kapoor is perfect in his small role.
Story-Screenplay-Direction
Scripted by Shakun Batra and Ayesha DeVitre, EMAET borrows concepts from various sources , a bunch of films we've already seen, but it's the execution which makes this movie stand apart from the rest. Its got ample amount of freshness to it. Direction by Shakun Batra is good. He uses his cast to perfection, and so was able to create few great moments. He was also able to generate subtle humor from the actors at ease. More than the direction, it's the screenplay which makes the movie work. It's very slick, and there is not a single dull moment in the movie. I especially loved the parallel story telling shots at the therapy center. And I loved the climax!!
If he sticks to his basics and makes movies with such freshness, director Shakun Batra might make be the next Imtiaz Ali.
Other Departments
Music by Amit Trivedi is a definite asset to the movie. It's actually a worth buy album in itself. My personal favorites are 'Aunti ji' and 'Gubare'. Background score by Clinton Cerejo is good. I liked the way he used an old classic for one of the most hilarious scenes in the movie. Lyrics by Amitabh Bhattacharya are perfect. Dialogies, I am assuming by Shakun Batra, are excellent. Editing by Asif Ali Shaik is really good. At 1 hour 50 minutes, the film, as already mentioned, is never boring. Cinematography by David MacDonald is very innovative. After the agni pariksha of Agneepath, Dharma Productions comes up with a feel-good breezy film.