Place: Desi Dhaba
Location: Glenmore Parade, Ealing Rd, Wembley
Cuisine: Indian
---
Meal: Dinner (with wifey and our lil one)
On: Saturday, 9 July 2022
We were at the Shri Vallabh Nidhi Mandir located on the other end of Ealing Road at Wembley last Saturday, and came across this small joint tucked in between a row of shops. It was about 5:00 PM, and given that we weren't really hungry, decided to come back later. After a couple of hours exploring the Indian market and eateries on the street, we dropped by at around 7:00 PM, and the restaurant, given that it was away from most of the Indian joints on street, was pretty empty with just a couple of tables occupied. We made ourselves comfortable at a table for four. The place had a nice vibe to it and reminded us of a typical Indian dhaba.
A few minutes after we settled down, we were served with some fryums alongside mint chutney, garlic & herb sauce, and sweet chilli sauce. Now, this was a welcome surprise for we were starving and the fact that we had food on our table without any "do you want papad?" question thrown at us the moment we walked in. And no, we weren't charged for them!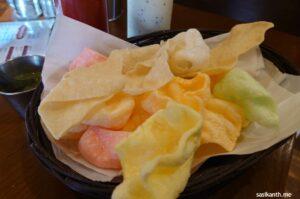 The fryums were crisp and satisfied our initial hunger right away; we emptied the basket in about 5 minutes.
Now for the proper meal, we ordered Tandoori Stuffed Mushrooms, Kofta Dilruba, a Butter Naan, and three Butter Chapati. We also asked for a portion of Paneer Pilau for later.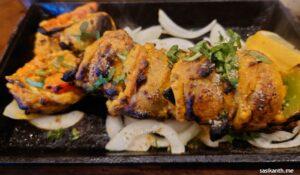 The mushrooms were served in about 10 minutes and they looked scrumptious. The description on the menu read succulent mushrooms marinated in authentic aromatic spices, stuffed with paneer and cheese, cooked in tandoor, and boy, they were yum! Unlike another place we were at in the recent past, the quantity was great; we had about 7-8 mushrooms on our plate. Great start to our meal!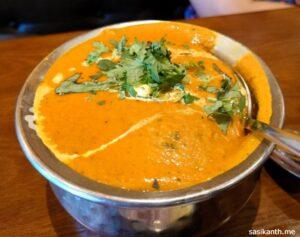 The main course was served soon, and I was excited for the Kofta for it was listed as Chef's special. With paneer dumplings in a creamy tomato gravy, unfortunately, this turned out to be just alright (against my anticipation of awesome). The Kofta balls were a little too dry and the gravy was a bit grainy. It also could have done with a little more salt to get the flavours right. Again, this wasn't a bad dish, it just didn't match up to my expectations.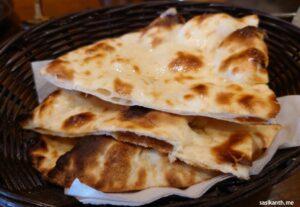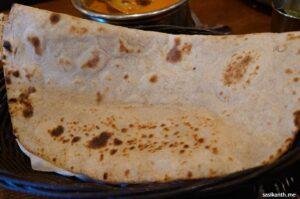 The Naan was soft and perfect. Our lil one who usually doesn't prefer Naan, loved it. The Chapatis were huge and super soft. We kinda over-ordered as we couldn't even finish the second one.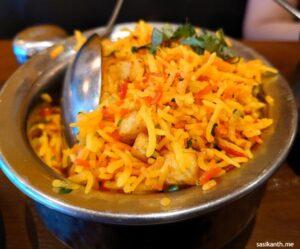 The Pilau was served after we were done with our bread and looked flavour packed. This was again a Chef's special and tasted great; the paneer was fresh, and the rice was perfectly cooked. However, as with most Indian restaurants in London, it needed salt to suit our palate.
At about the time the Pilau was served, we realized that we needed another side for us to do justice to the meal, so we asked for Dal Makhani.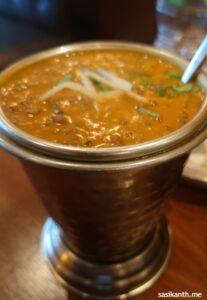 And we were glad that we did for it turned out to be another winner. The dal was creamy, the spices were right, and it was lip-smacking delicious.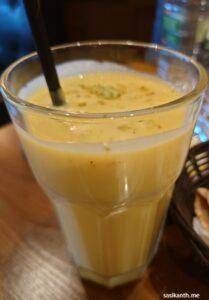 To finish our meal, we ordered a Mango Lassi that turned out to be thick and perfect, the best lassi I've had in a while.
Overall, this turned out to be the best meal we've had in London thus far (Shayona was at the top of our list until we visited this place; will review it soon). We were a bit apprehensive when walking in but were totally impressed by the food and service. Our waiter, Bhumi, was super friendly and ensured that we had everything we need on the table at the right time. This is one restaurant I'd definitely recommend to anyone looking for a good Indian restaurant in town. And it is pocket-friendly. I will be back for sure, often!
Food: 9/10
Service: 9.5/10
Ambiance: 9/10
Meal for 3: £39.49
---
Meal: Dinner (with wifey and our lil one)
On: Friday, 2 September 2022
Given that Desi Dhaba was the best find in London thus far, it was our first choice when my brother and his partner visited us from the US. We walked in at about 8:00 PM and settled down in the centre of the restaurant. Right away, some papad and fryums were served on the table.
I wanted to try almost everything from our last visit for they tasted yum, and I also wanted to check consistency. Therefore, in addition to what we ordered last time, we ordered Paneer Popcorn and a Veg. Platter as starters, and a Paneer Makhani with some Butter Roti and Jeera Rice for the main course.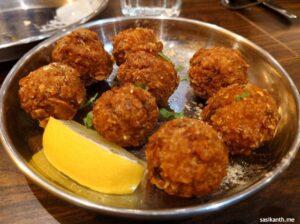 The Paneer Popcorn was served first in about 10 minutes. Balls of paneer bhurji rolled in crumbs and deep fried, these were crunchy, yes, but I thought needed some more flavour.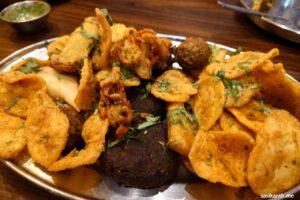 While we thought that the platter will just have a couple if pieces of everything, the portions were humongous and came in two plates. The first one had the samosa, hara bhara kabab, some cutlets, mirchi bhajji, and loads of onion and potato pakoras/chips. Everything tasted good with the chips being the stand-out dish.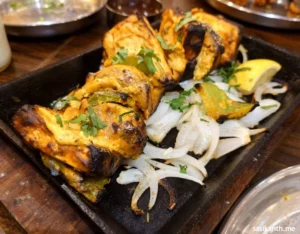 The other part of the platter was a sizzling plate with some stuffed mushrooms and paneer tikka. The mushrooms were yum like the last time, and the paneer was good as well.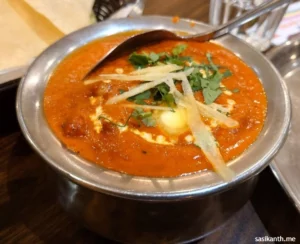 The Malai Kofta and Dal Makhani turned out to be as good as the last visit, but again, needed additional salt to make them palatable. The additional Paneer Makhani was a decent dish; the makhani gravy could have been better.
The Jeera rice was a disappointing dish for the rice was uncooked and had no flavour.
Overall, a very good meal again. Barring the Jeera rice, everything was delicious. Most dishes needed salt, and that was the only downside. The service was good and the portion sizes were amazing. While we were not as elated with the food as the last time, I thought it still was a great meal.
Food: 8.5/10
Service: 9/10
Ambiance: 9/10
Meal for 6: £68.91
---
Verdict: 9/10