Place: AB's – Absolute Barbecues
Location: Opp. Madhapur Police Station, Road No. 36, Jubilee Hills
Cuisine: Global
Meal: Lunch
Here's another restaurant with raving reviews I've been wanting to visit for a while. I've been told that this place is always busy, especially over the weekends, so I called in on Friday to reserve a table for lunch either for Saturday or Sunday. I was turned down for they were already full. I again called in on Saturday morning and was told the same, but they suggested to try walking in. Taking my chances, I reached AB's a little after they opened for the day, and was seated in a jiffy at a table for two in between the buffet and the wish grill without any hassle. Surprisingly, the place was full by then itself. The interiors of the restaurant were good, and I was pretty impressed with the overall ambiance of the place.
The initial few minutes were lull, and it took a while for someone to attend to me. After about ten minutes, the griller was placed on my table, and everything was in place for a long meal.
First came Crispy Corn. Though they tasted good, I would have preferred them to be hot and more crispy.
Then came the grills: Stuffed Mushroom in Tamarillo Sauce, Mama's Caribbean Cottage Cheese and Cuban Grilled Vegetables. The grilled veggies mostly had peppers with corn on the cob, which tasted decent. The paneer was really soft and tasted yum along with the condiments, especially the mango and chilli sauces.
But the best of the lot happened to be Stuffed Mushrooms. They were perfectly grilled and had the right amount of seasoning to make them delicious. I've said this often, but these were some of the best I've had in recent while. Yum!!
While I hogged on 3-4 skewers of paneer and mushrooms, I was offered a choice of complimentary drink as part of their first anniversary. I chose Blue Curacao Mocktail which turned out to be pretty good.
Then came Falafel with Humus in Pita Pocket. This was a disappointment as the Falafel turned out to be hard, and the pita too wasn't great. I informed the floor chef about the same, and he got me a hotter one, which turned out to be better, but still not the best.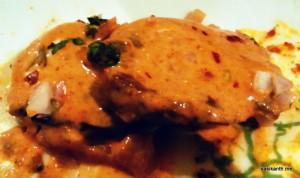 Next, the final starter of the day's menu was served: American Cheesy Potato. These turned out to be more or less the same as what I had at Aao Khao a couple of weeks ago; aloo tikkis with spicy cheesy sauce. While the sauce was good, the tikkis weren't really up to the mark for they were pretty hard and undercooked.
Apart from the five listed starters, there also happened to be Grilled Pineapple which turned out to be toothsome!
Post my feedback about the Falafel and Potatoes, the floor chef offered to serve me some off the menu starters. First came in Honey Chilly Potato Fries which turned out to be pretty good. However, I would have preferred them to be more crispy and spicy.
Finally, he served me some Crispy Cheese Rolls which turned out to be really good. The paper-thin crust almost melt in my mouth with every bite; yummy!
I hadn't even started on the main course, but was almost stuffed. After a small break, I headed out to the wish-grill.
At first, I had no clue on what exactly I was supposed to do, but soon understood that I had to choose from the choice of vegetables, rice or noodles, and pick a sauce for them to be tossed/grilled with. I choose some veggies with noodles and Szechuan Basil sauce (which in itself was delectable). I was given a paper coupon, and a few moments later, the dish was served on my table.
This looked really good, and tasted equally yum. The chef had added some more veggies apart from my choice, but I didn't really care for it turned out to be a delicious dish! If I weren't stuffed, I would have liked to try another combination with a different sauce.
After two hours of munching, it was time to head to the buffet. Ironically, I just had a taste everything for my tummy wouldn't take any more food for the day.
Though the salad counter looked good, I decided to skip it.
The Taco Twist Soup looked and sounded good, so decided to give it a shot. It actually tasted very different from regular soups, in a good way.
They had Lahori Paneer, Vegetable Jalfrezi, Corn ka Bharta, Kala Dum Aloo, Rasgulle ki Sabzi and Dal Makhni as part of their Indian offerings. The Paneer tasted very good while the rest were decent. Worth mention is the Rasgulle ki Sabzi which had yummy Rasgullas in a creamy sauce; not what you expect, but it actually turned out to be a pretty good experiment. The Dal also turned out to be delicious. They also had Biryani which was, like in any buffet, mediocre. They had Thai Green Curry which was too thin and lacked flavour. The Butter Naan served along was soft and good.
I couldn't eat any more, I was done. But wait, I still had to taste the desserts. Why god, why!? 😛
They again had a huge offering and I decided to have a taste of everything; all of them turned out to be succulent.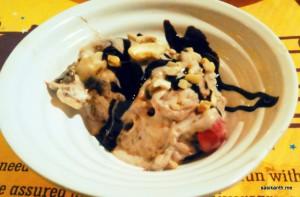 And I ended my laborious meal with a Black Forest ice-cream which was made with loads of nuts; yummilicious!
After three hours, I was done eating. No wonder it's so difficult to find a table at this place for everyone would just settle down for hours. I ate to my heart's content after a long time, and how much did it cost? 560 bucks? That's it, seriously? This is probably the best value for money meal I've come across in a long time in Hyderabad. Add to that some personalized service, and you're in for some pampering. Yes, not all items were great but who cares when most of their huge offering are excellent. It's a meal worth every penny. Give it a shot if you haven't yet, and make sure you walk in with a good appetite.
Food: 9/10
Service: 9.5/10
Ambiance: 8.5/10
Meal for 1: Rs. 559/-
Verdict: 9.5/10
PS: While lunch is priced 559 bucks AI on all days, dinner is slightly more expensive. And ya, they don't accept tips. 🙂