Place: Deli 9
Location: Road No. 1, Banjara Hills
Cuisine: Global, Bakery
Meal: Dinner (with couple of friends)
Deli 9 is currently having a Global Burger and Cheesecake Festival, and few of my vegetarian foodie friends suggested that we drop by to give try their veggie offerings. For some reason, I've never visited Deli 9 thus far cos I've perceived it as a high-priced cafe for the rich folks, an opinion I formed ages ago after one visit to Fusion 9. Back then, this was one of the only expensive deli's in town, but given that you spend 300-400 for a Burger at any other restaurant in town today, it doesn't look so bad after all. So here we were at the Banjara Hills outlet which has pretty good ambiance.
While waiting for our fellow foodies to arrive, a couple of us ordered Crusty Garlic Foccacia with Cheese, and four pieces of cheesy garlic bread were served in about 10 minutes.
These happened to be the best garlic bread I've had in the recent past for the bread was perfectly baked and had the right amount of garlic and cheese. If this was anything to go by, we were in for an amazing meal.
Once everyone arrived, we ordered one each of their veggie offerings for the Burger festival – a Veggie 9 Burger, Japanese Ramen Burger and a Lebanon Chickpeas Burger. It took forever for the burgers to be served but we weren't really complaining. Each burger was served along with exactly six Potato Wedges. I was hoping some kinda dipping sauce or salad, but there was none.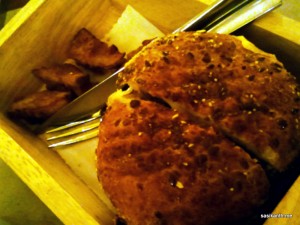 The Veggie 9 Burger had a decent patty sandwiched between multi-grain bread, with some lettuce, tomatoes, cucumber, and a slice of cheese. The patty was good, however, it was kinda dry and didn't seem really fresh. While it wasn't the best burger, it wasn't a bad bet.
The Ramen Burger looked puny in comparison with others for the bread was replaced with sautéed noodles, and was served with the same veggie patty. While the combination did taste good, the noodles, though well done, were kinda oily which resulted in an oily after taste.
The Chickpea burger had a patty served in between burnt pita bread along with hummus and finely shredded lettuce. Apart from being burnt on one side, the pita bread was really soggy and tasted terrible. The hummus too had no flavour and was more like a chutney. The biggest disappointment of the evening thus far!
And ya, the potato wedges were among the worst ever for they were dripping oil and had no flavour or seasoning – they were deep-fried potato pieces, period.
Now come the best part of our meal – the cheesecakes. They had 9 different offerings but none seemed appealing. We decided to share a Nutella Cheesecake and a Lemon Cheesecake.
First off, the Nutella Cheesecake didn't look like a cheesecake. It was more like a gooey brownie and tasted exactly like that. Why call it a cheesecake, I'll never understand. It was too sweet for my liking (because of the Nutella), and overall an average piece of cake.
The Lemon Cheesecake happened to be a piece of rubber and disgrace on the name of cheesecake. Hoping that it had gone stale and that was the reason it tasted bad, I informed the waiter about the same. In response, I was told that it was supposed to be like that for it was a set cheesecake. Brilliant. I actually can't believe that they serve something so terrible for 150 bucks, and have an excuse for it. It was taken back when I complained about the taste; I was hoping for a replacement, but there was none.
A meal which actually started of pretty well turned out to be a disaster with every item. Forget the burgers, if a place serves this kinda cheesecakes during a supposed festival, then there's something terribly wrong. The Burgers too weren't anything special and spending 195 bucks for each of them while the regular one was available for 115 is purely our mistake. The service too was exceedingly slow. A meet at the adjacent Karachi Bakery would have been more fruitful (and pocket friendly).
The festival is still on if you'd like to experience it (till October 30). Good luck!
Food: 5.5/10
Service: 7/10
Ambiance: 8/10
Meal for 3: Rs. 1270/-
Verdict: 6/10