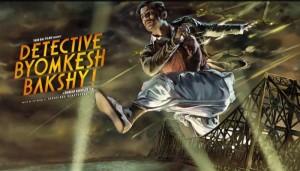 People have been talking about the Doordarshan serial Detective Byomkesh Bakshy, and how good it was, but I somehow don't remember ever watching it. And I'm glad I don't, cause that kinda made me enjoy the movie without comparing it to anything.
I've enjoyed all of Dibakar Banarjee movies till date, and while all of his previous films dealt with reality, this is his first try at fiction. While the script does justice to the character created by Sharadindu Bandyopadhyay, I thought Dibakar faltered in showcasing it on the screen. For a thriller, the screenplay was awkwardly haphazard; I really had to concentrate to understand what was happening, and rattle my brain for it all to make sense. Yes, one needs to use their thought process to enjoy a thriller, but not to an extent when it starts to get onto your nerves. Nevertheless, I found the direction to be spot on. The climax proves the calibre of Dibakar as a director; pure genius.
The movie scores big time on acting front, with near splendid performances by almost everyone. Sushant Singh Rajput put his best foot forward and came up with a memorable act. Anand Tiwari is brilliant as Ajit, and so is Neeraj Kabi as the antagonist. Swastika Mukherjee and Divya Menon are decent, while the rest of the cast does well.
Music (by various artists) is perfect and goes well with the flow of the movie. Editing by Manas Mittal and Namrata Rao is neat, and cinematography by Nikos Andritsakis is excellent. Production values, especially the set, are great.
Is it worth your time and money??: If not for the chaotic screenplay, I think it's a good watch. I'm actually looking forward to the sequel, and so should you!
Worth mention: The climax!
Acting: 8.5/10
Story-Screenplay-Direction: 7.5/10
Technical Aspects: 8.5/10
Verdict: 8/10