Place: 4 Seasons
Location: Opp. RTA Office, Tolichowki
Cuisine: Indian
Meal: Dinner (with couple of friends)
Wanting to try a different place, we drove to Tolichowki to drop in at 4 Seasons. I've heard quite a lot about this place, and wanted to check out if it was worth the talk (I was aware that this was a place famous for its non-vegetarian food, but still). So here we were on a Thursday night at about 9:30 PM. To our surprise, the place was packed and we had to wait for about 15 minutes before we got a table.
Ambiance wise, the restaurant has nothing much to offer. The place was brightly lit and looked pretty clean. Once seated, a chilled bottle of water was placed on our table along with these huge, heavy, laminated menus, which had pictures of almost all the dishes in it. All the pictures looked pretty tempting. Me and my vegetarian friend ordered a Sweet Corn Soup, Paneer Tikka and Sautéed Mushrooms, while my other friend ordered a Chicken Kalimirch Kabab and Goan Fish Kabab for himself, and a couple of cold drinks
The soup was served in about ten minutes. It was thick and full of vegetables, just the way I like it. My friend had trouble though. He thought the pepper served on table was stale, and informed this to the waiters, but their attitude was totally ungracious. This was quite a turn off.
The starters were served pretty soon. The quantity of Paneer Tikka served was very good, and it was presented well. But taste wise, it was just alright. The paneer seemed over marinated, and it could have been grilled better.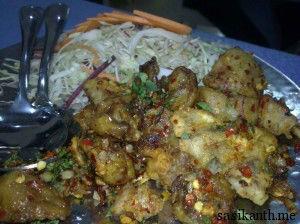 The Mushroom was very good. Tender mushrooms, perfectly baked and sautéed. Yum!
For the main course, we ordered a Kaju Vegetable Curry, Paneer Naan, Garlic Naan and a Vegetable Biryani, and a Chicken Biryani.
The Kaju Vegetable Curry turned out to be nothing but Vegetable Korma. We struggled to find cashew-nuts in it. There were a couple of par-boiled potatoes, but on the whole, it was a decent korma. The Paneer Naan was similar to a stuffed kulcha, and pretty good. The Garlic Naan was alright.
We were expecting an awesome biryani, but it wasn't anything great. There was lot of cinnamon in the dish, which gave the rice a very strong flavor.
On the Non-veg front, my friend liked the Kali Mirch Kabab the best. He was disappointed with the fish and the biryani.
Overall, an average meal. The food was decent, but what put us off was the terrible service. Apart from the soup incident, the starters dishes were cleared even while we were still not done with them. The prices were on the higher side as well (a chocolate shake was priced 120 bucks), and there is not much to choose from for the vegetarians. We thought the bottle was complimentary (like most other places these days), but later realized that we were expecting too much. Fortunately though, there are no taxes.
On the whole, except for the laminated menu, there is nothing so special about this place. Give it a shot if you please.
Food: 7.5/10
Service: 5/10
Ambiance: 6/10
Meal for 3: Rs. 2010/-
Verdict: 6.5/10