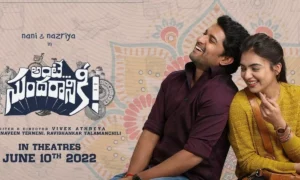 First things first, I like Nani. He usually picks sensible subjects, but of late, it seems like he too is taking the formulaic route. Post Jersey, none of his movies made an impact, apart from maybe Shyam Singha Roy (which I thought was a decent watch). Come Ante Sundaraniki, he's back at his favourite genre, and I was eagerly waiting to see if he still has the charm to woo the audience as he did for, say Ala Modalindi or Bhale Bhale Magadivoy.
Scripted and directed by Vivek Athreya, Ante Sundaraniki tells the story of Sundar, a confused Hindu guy from an orthodox Brahmin family, and Leela, a strong girl from a Christian family. As you'd expect, they fall in love, and Sundar conceives a plan with some significant lies to convince their families for the wedding.
It's more or less a simple story, but Vivek has handled the subject with a lot of maturity; the film is bold and addresses many unspoken topics, such as choice of pregnancy, infertility, etc., while never trying to be preachy. Every character is very well written and makes an impact on screen. Coming from similar family background, I could relate to most of the content. I loved how Vivek (I'm guessing from his own experiences) showcased the rawness of a Telugu Brahmin household (including the cuss words). There are a couple of illogical sequences, but he has integrated them so seamlessly into the comedic narrative that you don't tend to delve so much into them. Thanks to the non-linear narrative, the screenplay is compelling and keeps you engrossed all through.
It's a cakewalk for Nani, and he excels as Sundar. His expressions while conversing with his manager are priceless. Nazriya, a Malayalee actress famous amongst the Teluguites because of Bangalore Days, compliments Nani in every frame. She's charming, relatable, and fits into the role with ease. Dubbing for herself added value. It's a meaty role for veteran Naresh, and he does a fantastic job as the orthodox father (he reminded me a lot of the old Naresh from Jandhyala movies). Rohini is apt as the mother and does a commendable job in the final act. Nadhiya and Azhagam Perumal are alright as Leela's parents. Prudhvi gets a good show after a long time as Sundar's uncle. Harsha Vardhan is perfect as Sundar's manager, and the cameos by Rahul Ramakrishna and Anupama Parameswaran are effective. The child artists who played young Sundar and Leela are excellent.
Music by Vivek Sagar is decent. I liked the fact that the songs are blended into the background score. The choreography for the first song with the child artist is worth mentioning. No qualms with the cinematography by Niketh Bommi. Editing by Ravi Teja Girijala could have been crisp, for the movie seemed a little too long. Production values by Mythri Movie Makers are good.
Is it worth your time and money?: I loved the movie, and so did my better half. Ante Sundaraniki is a neat and clean romcom. However, not all might appreciate the overarching message, for I know that we still have people in our society who don't look beyond caste, religion, superstitions, and other social issues. If you aren't one such soul, enjoy the movie!
Worth mention: The beautiful chemistry between Nani and Nazriya (would you believe if I said there's absolutely no intimacy between the lead pair but still it still makes an impact?), and effective storytelling.
Acting: 8.5/10
Story-Screenplay-Direction: 8.5/10
Technical Aspects: 8/10
Verdict: 8.5/10