Place: Blue Bottle Cafe
Location: Next to Maharaja Chat, Madhapur
Cuisine: Chinese, Italian
Meal: Dinner
I was recently invited to try the food at Blue Bottle Cafe by the owners, and the given the fact that I wanted to try this place anyway, dropped in on a Saturday evening. The Cafe is on the third floor of the buildings which hosts Lazzio- The Pizzeria and another new Indian restaurant, Hyderabad 33. The moment I stepped out of the elevator, I was pleased with the set up and loved the look of the place. It was very casual, and looked very Mediterranean (it actually reminded me of an Mediterranean Hookah joint I visited in Nashville, USA). I met up with the owner and settled down at a corner table.
To start off, I ordered a Kit-Kat Shake, followed by Chilly Cheese Toast, Szechuan Fried Rice and Chilly Mushroom.
The shake was served soon and was well presented. The shake was thick and pretty good. I actually don't like Kit-Kat so much for it's too sweet for my liking, but the shake was just perfect. A good start.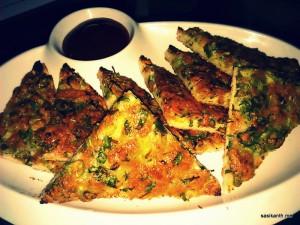 The Chilly Cheese toast again looked good to look at, and I was impressed with the quantity served. The bread was perfectly baked and tasted good, but it had too much egg which was kinda bothering me. I didn't really enjoy the fact that I was able to taste the egg more than the cheese.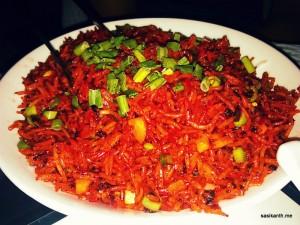 I had asked for small portions of the Fried Rice and gravy, but even the smaller portion was quite a lot. The Fried Rice was made with Basmati Rice (which is unusual, for you don't use Basmati for Indian Chinese food), and was very dry. That apart, it was very very spicy (Szechuan is supposed to be hot so no issues on that front). I believe it would have tasted way better with normal rice.
The Chilly Mushroom was again very spicy, and I was sweating profusely at one point. On taste front, it was decent and the mushrooms tasted good.
Overall, it was pretty good meal. But for my bad of ordering two spicy dishes for main course, I mostly enjoyed the meal. However, the rice could have been better. The ambiance is relaxing and the service seemed decent. The prices too aren't really steep, and quantity of food served make up for it. Give it a shot if you haven't yet.
Food: 7.5/10
Service: 7.5/10
Ambiance: 8.5/10
Meal for 1: N/A
Verdict: 7.5/10