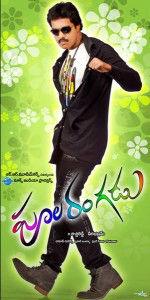 I've never seen a comedian, or should I say a hero, build a six-pack body for ten minutes of a film. Sunil, respect. And ya, take a bow!!
Poola Rangadu is a regular mass masala flick with not much depth to it. It's a film which makes no sense in reality, but who cares about the story and practicality as long as it caters to the mass audience, right? The plot is very similar to Maryada Ramanna, and there isn't much scope for Sunil to change his style. Yet, he managed to carry the film on his shoulders and entertains to the fullest. His dances are superb, and his body, well, he could give Salman Khan a run for his money.
Plus points are Sunil, comedy and the climax fight. It's been a long time since I laughed so much for a Telugu film (though it made no proper sense). On the flip side, the story is very predictable with nothing new to offer, and the screenplay is mediocre. It kinda stumps me that Sunil accepted to do a similar kinda film all over again.
If you don't happen to love mass comedy flicks which make no sense, Poola Rangadu isn't for you. If that's what you crave for, it will entertain you to the fullest. Go enjoy the "Pocha Mummy Festival"!
Verdict: 6/10 + 1 for Sunil!
For a detailed review, read on…
Plot
Ranga (Sunil) is an unlucky real estate agent in Hyderabad who owes huge debts. As a last resort, he lends his ancestral property to buy and make money out of a 30 acre land. He later realizes that the land is being fought over by two factional landlords. The rest of the story is about how he gets the land and manages to marry Anita (Isha Chawla), the daughter of one of the landlords.
Actors Performance
Sunil is really good in the lead role. I have seriously not come across an actor who's worked hard just for a few minutes of a film. His dances were awesome, but I felt they could have been better choreographed. He worked really hard on his body, and it shows (initially though, thanks to the bad cinematography, his body looks like a mannequin under his face). The response he got from the audience was no less than what Chiranjeevi would get. I strongly believe that he now needs to keep up his mass following and take up a few sensible projects instead of repeating the same kinda scripts.
Isha Cahwla looked good, and was alright. Ali entertains after a long time. Rajesh is okay in his limited role. Dev Gill and Pradeep Rawat were adequate for their respective roles. Kota looked quite odd as Sunil's dad, thanks to his horrible wig. Rest of the cast was alright.
Story-Screenplay-Direction
I have obviously not watched the original Mallu version of the movie, but from what I read, the plot pretty much looks the same but for the climax. Director Veerabhadram was able to get his mass act right. He handled the comedy episodes with ease, but the senti episodes looked kinda patchy. Since the story is very similar to Maryada Ramanna, he should have tried to modify it a bit to give it freshness. Nevertheless, direction is alright. But its the screenplay which could have been way better. Most of the initial scenes had no proper flow.
Other Departments
Music by Anoop Roobens is alright. It is clear that all songs were composed so as to make Sunil show his dancing skills. Background score is okay. As already mentioned, the choreography could have been better. Cinematography by Prasad Murella is average, though he kinda lost it towards the climax fight. The color grading could have been better. Editing by Gowtham Raju is nice. The climax fight was good. Production values by R.R Movie makers are okay.