Place: Reshmi's Classic Restaurant
Location: Opp. Nanking, Parklane, Secunderabad
Cuisine: Indian
Meal: Dinner (with amma and dad)
I've been to Reshmi's a couple of times in the past, and thought it was alright. But recently, I've been hearing a lot about this place, stating them to be the best North Indian food serving restaurant in town. A little curious as to what I missed, I visited the restaurant few days go with amma and dad. Ambiance of the place remained the same as I remember, decent. We sat at a table on the far end, facing the road.
I had already gone through their menu and decided on what to order – Smoked Paneer, Lasooni Tadka Palak and their Kofta Biryani. Dad wanted to have starters, so we asked for Shanghai Rolls, which were unavailable. So we asked for Veg. Bullets (I know that their Stuffed Mushrooms are pretty good, but since dad doesn't eat mushrooms, had to order an alternative). For roti, we ordered a Butter Naan, Pudina Paratha and Tandoori Roti.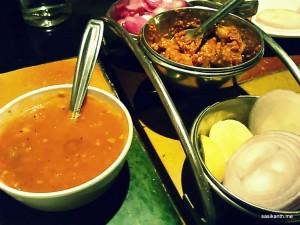 We were told that the starters would take around ten minutes. In the mean time, the accompaniments were served.
Ten became twenty and finally the Veg. Bullets were served, and they didn't look appetizing (because of their shape). On taste front, they were a little undercooked (I could taste the dough) and weren't great. Not a good start to the meal.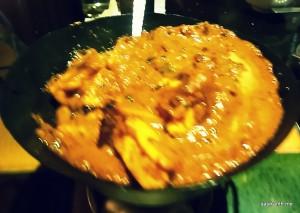 Even before we finished the bullets, the main course was served. The Smoked Paneer, served in a kadai, tasted yum. The gravy was creamy and the paneer pieces were amazingly soft. The Lasooni Tadka Palak was also delicious, but on the downside, it was oozing oil which was quite a turn off.
The Butter Naan had layers and was very good. The Pudina Paratha was soft and equally good. The Roti on the other hand could have been better.
I was pretty excited to taste the Kofta Biryani which was served next. While the rice was good and flavourful, to my surprise (and disappointment), there were no koftas in the biryani. Instead, they had a few hard Manchurian balls. While I do like Manchuria along with biryani, these didn't taste great for they were pretty hard (and didn't seem fresh). And moreover, they weren't koftas!
Overall, a decent meal, but nothing extraordinary. Yes, the place did serve some authentic North Indian food, most of which was yum, but I wouldn't call it the best in town. The service was pretty good, and everything was priced reasonably. However, I thought the quantity of the curries could have been better. And the Manchuria instead of Kofta was a huge disappointment (did they think no one would notice??)
Bottom line, give it a shot if you haven't yet for it's a decent place, but don't expect anything extraordinary.
Food: 8.5/10
Service: 8/10
Ambiance: 7.5/10
Meal for 3: Rs. 760/-
Verdict: 8/10