Place: Santosh Dhaba
Location: Kondapur
Cuisine: Indian
Meal: Take-away
Amma and dad were travelling through Kondapur during lunch hour last week, and decided to bring some food home for lunch. Not just me, but dad also likes the food at Santosh Dhaba (Abids), so from the abundant choices in and around Kondapur, they chose this one.
They ordered for Malai Kofta, Kaju Biryani and Butter Naan. Apparently, the order took longer than usual (for Santosh Dhaba standards), and they had to wait for about 15 minutes for the food to be packed.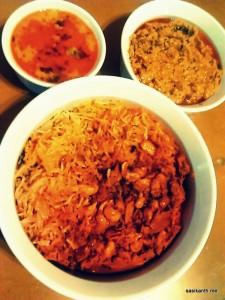 Unpacking the contents, the food looked yum. The Malai Kofta was delicious, with a couple of well cooked kofta balls. The gravy was thick and had a nice flavor. I was dreading the Butter Naan to have become rubbery, but it turned out to be pretty soft. The best dish of the meal though was the amazing Kaju Biryani. Full of cashew nuts, this was one of the best biryani I've had in recent times. Not too spicy, rice full of flavor, yummilicious! The gravy served along was equally good as well.
Overall, an excellent meal. Because of their oily food, I've been avoiding Santosh Dhaba of recent. Yes, their food is oily and greasy, but is usually delicious too, and the quantity is sumptuous. It's a must try for any Punjabi food loving vegetarian. Try them out (any of the six locations in town) if you haven't yet, and lemme know what you think 🙂
Food: 9/10
Service: N/A
Ambiance: N/A
Meal for 2: Rs. 235/-
Verdict: 8.5/10