Place: Saranngi Vegetarian Restaurant
Location: PG Road
Cuisine: Indian
Meal: Lunch (With cousins)
Having read some good reviews about this place, I was here with a couple of cousins on a Sunday afternoon. The place was brightly lit and had neat interiors. We made ourselves comfortable at a corner table.
They had a pretty decent menu, with quite a few starters. The Stuffed Mushrooms sounded really interesting, and so I asked for the same, but it was unavailable. I asked for a paneer starter and they didn't have that either. Apparently, they don't make their special dishes on Sundays (this was the reason given). Strange! Anyway, we ordered Chilli Baby-corn and Haryali Spring Rolls (which surprisingly was available). For the main course, we ordered some kinda special Kofta curry along with Naan and Roti.
The Baby-corn was served in about 10 minutes. While they looked good, the corn wasn't fresh and the batter too seemed stale. Therefore, the dish turned out to be more or less a disaster.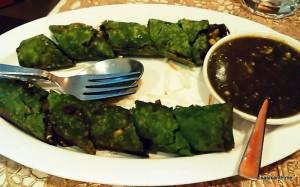 The Spring Rolls took quite a while. Instead of using regular wrap, these were made with spinach. The stuffing was very masaledar unlike the usual, and tasted pretty good. I would have liked them to be more crispy though.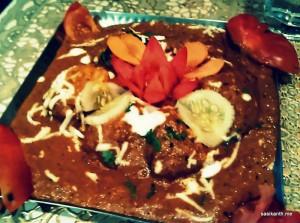 These guys were very particular about presentation and this was apparent with the Kofta, which again looked really colourful. The kofta balls were soft and well cooked while the gravy was slightly spicy. however, it tasted pretty decent. The Butter Naan could have been better.
Overall, it was an average meal, and not great as I'd expected. The fact that I don't even remember the name of the Kofta I ordered says something. The service was pretty lethargic, and the fact that they didn't make specials on a Sunday was a put off. Thee quantity of food served was very good, but the prices being charged were no less either; 800 bucks for two starters, a curry and rotis is quite a lot. You could give this place a try if you're close by, but it's not something worth driving to.
Food: 7.5/10
Service: 6/10
Ambiance: 7/10
Meal for 3: Rs. 825/-
Verdict: 6.5/10