Place: Siaa
Location: Opposite Chiranjeevi Blood Bank, Jubilee Hills
Cuisine: Indian
Meal: Dinner (with family)
After hearing quite a few good things about this place, here I was with my family to celebrate Father's Day a week late. I called in early and made a reservation for it was a Saturday night, but when we walked in, the place was pretty much empty. The interiors of the restaurant have been worked upon quite a bit, and thanks to its elevation, you get a very good view of the city. We sat at a corner table and were immediately attended to.
I had pretty much already gone through their menu on Zomato, so knew what to order. The starters were kinda expensive, so decided to go only for one, and ordered Tandoori Broccoli. For main course, we had Paneer Butter Masala and Methi Malai Aloo, Stuffed Kulcha, Naan and Kerala Parota. Later on, we ordered a Veg Dum Biryani.
In about 10 minutes, the Tandoori Broccoli was served. It was supposed to be topped with cheese and almonds, but all I found was cheese. The broccoli was a little over boiled, but overall, thanks to the cheese, it tasted yum. For 255 bucks, I though the quantity served was very less.
The main course was served pretty soon. The Paneer Butter Masala had fresh paneer and the gravy was delicious. The fenugreek gave it a nice flavor, and overall, tasted yum.
The Methi Malai Aloo was absolutely delicious. Creamy, very well cooked, and lots of methi, just perfect. Loved it!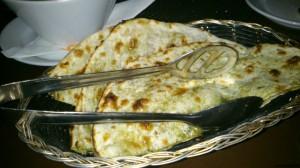 The Naan was soft, and Parota was decent. The Stuffed Kulcha was very very good.
The Dum Biryani was good, but it had a lot of curry with very less rice, which made it very spicy.
Overall, a pretty good meal, for most of the food served was finger licking good. On the downside, for the prices, the quantity of food served seemed less. Ambiance wise, the place was neat, but thanks to the high ceiling, was too loud. Since the place was empty, every table had its own waiter, and the one we had just wouldn't leave ours. It was very annoying after a while. Nevertheless, for the food and ambiance, you can visit this place once in a while.
Food: 9/10
Service: 7.5/10
Ambiance: 8/10
Meal for 4: Rs. 1443/-
Verdict: 8.5/10