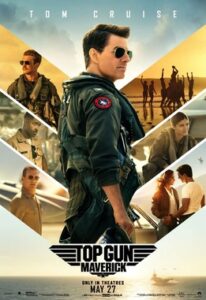 Top Gun, released a month after I was born 36 years ago, is considered a cult classic and remains relevant in pop culture decades after its release. Though it is an aviation-themed drama, the stylish, action-packed sequences and some of the most amazing aerial footage make it one of Tom Cruise's best films. Does the sequel have enough meat in comparison?
Top Gun: Maverick takes off more or less where Top Gun ended. A few months after serving as a trainer at the Top Gun academy, Maverick (Cruise) moves into different roles within the Navy, not lasting at any of them for long. Thirty years down the line, thanks to Iceman (Kilmer), he gets an opportunity to train the best of the best Top Gun fighter pilots for a special/deadly mission. Part of the pilot group is Rooster (Teller), son of Maverick's best friend Goose (from the first film). There's tension between Maverick and Rooster, and the rest of the film is about how they succeed working together.
Scripted by Peter Craig and Justin Marks, the storyline is similar to the predecessor but stronger and sans the drama. Director Joseph Kosinski handles the relationship between Maverick and Rooster, and the banter between the Top Gun candidates in a suitable manner. Rooster and Hangman (Powell) remind you of Maverick and Iceman from the first film. The subtle romantic thread between Maverick and Penny (who didn't make an appearance but was just mentioned in Top Gun) and the climax stood out for me personally. The screenplay by Ehren Kruger, Eric Warren Singer and Christopher McQuarrie is alright. I, however, felt that the pace of the film was a bit slow at times, especially in the parts where there was a wee bit of drama.
Tom Cruise, what can be said about this guy! Though age shows in a couple of frames, he looks dashing as ever (I'd be lying if I said I wasn't smitten by him while watching the movie). Miles Teller has a vital role, and he delivers. Jennifer Connelly is good as Penny, and so are Jon Hamm and Monica Barbaro. Glen Powell makes an impression. Ed Harris and Val Kilmer make cameos.
On the music front, the Top Gun Anthem and Danger Zone reused from the original make an impact, and so does I Ain't Worried by One Republic. I thought the sound mixing could have been better, especially for the film's first few minutes (including the main titles). Editing by Eddie Hamilton could have been tight. The cinematography by Claudio Miranda is exceptional. The electrifying aerial shots are very well choreographed.
Is it worth your time and money?: A big yes. Top Gun: Maverick is a well-executed film that, in many ways, is better than its predecessor. Tom Cruise holds the fort (like in most of his movies) and ensures you are in for a ride! Watch it in IMAX or at least a big screen for the best experience.
Worth mention: Cruise's charm and the spectacularly shot aerial sequences.
Acting: 8.5/10
Story-Screenplay-Direction: 8/10
Technical Aspects: 8.5/10
Verdict: 8.5/10