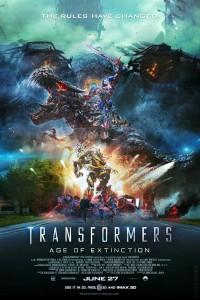 Sometimes you'd never want a movie to end for it's so good. And then there are times you'd pray for it to get over just to escape from the madness. The latest Transformers film happens to fall in the latter category!
Directed by Michael Bay, this is a complicated as hell storyline. Writer Ehren Kruger should really be commended for writing such an intricate script; boy does he have some imagination. Our beloved Autobots are now being hunted by CIA agents for reasons unknown even by the President of United States. When Cade Yeager (Mark Wahlberg), a wannabe inventor discovers the leader of clan, Optimus Prime, the hunt is on not just for the Autobots, but also Yeager's family. So what's the reason you ask? Because one CIA agent is paranoid about the Transformers, and would go to any extent to get rid of them. To what extent? Help build his own Transformers using Megatron's mind (Decepticon) to get rid of the originals (Autobots), with the help of a new set of alien Transformers (intergalactic mercenaries). Uff! If the story isn't bad enough, add an overdose of fights/visual effects/sound effects that you, nevermind. The screenplay is a mess, and so is the direction. I wonder what Bay was thinking!
Thankfully, the humans don't disappoint much (comparatively). Mark Wahlberg comes up with a decent performance, and so does Stanley Tucci. That's it. The rest of the cast is absolutely mediocre. Nicola Peltz is as good as a sexy plastic doll and Jack Reynor is a stone with barely any facial expressions. Kelsey Grammer is terrible as the paranoid CIA agent. In a scene, he reasons his doings for the safety of United States (aka the money) without a single emotion; I just wonder how someone can act so good :O .
Music by might have been decent; I'm sorry, I was so lost because of the madness on-screen that I barely paid any attention to the background score. Cinematography by Amir Mokri is nothing special either, and neither are the 3D effects. I wish Paul Rubell, Roger Barton and William Goldenberg (editing) could have done wonders by cutting everything out. More than 150 minutes long, the movie actually gave me a headache.
Is it worth your time and money??: I'd say no. But if you're a die-hard Transformers fan, and/or can sit through hours watching them battle it out while destroying human life and cities like nobody's business, then good luck!
Worth mention: As much as I'd like to say end title credits, there were a couple of episodes involving Tucci which were actually hilarious.
Acting: 5/10
Story-Screenplay-Direction: 5/10
Technical Aspects: 7.5/10
Verdict: 5.5/10