Place: A'la Liberty
Location: Road No. 12, Banjara Hills
Cuisine: Buffet
Meal: Lunch (with amma and dad)
On a Sunday afternoon, I finally dropped in to A'la Liberty for their buffet lunch. To make sure we didn't have to wait, I called in early and reserved a table for 2:00 PM. When we walked in, we were directed to a table which was still being cleaned up. Eventually, we were put across another one right next to the buffet spread. Ambiance wise, I thought the place was too crowded in every sense. Apart from being packed, the tables were placed very close to each other, to an extent that I had to couch every time someone from the next table had to get up. Unimpressed by the ambiance, I was hoping the food and service to make it up.
Once we were seated, even before we had settled in, the waiters started serving a couple of starters into one of our plates. This was very odd for the food left on the servers dish after serving the adjacent table was being dumped into my dad's plate while the other two plates on the table were left empty. So while dad started his meal, me and amma were left waiting.
While hoping for the starters, we were served instead with two bowls of Sweet Corn Soup (while there were three people at the table). Argh! The soup tasted pretty bland and was forgettable. It's another story on the number of times I had to ask the waiter for a pepper shaker before I was handed one.
Finally, after almost 15 minutes since my dad was served, I had the some starters on my plate. They had Dragon Rolls, Yogurt Paneer, Beetroot Chop and Pudina Aloo. The rolls were crispy and pretty good while the baby potatoes were average. The Beetroot Chop was the best of the lot, crunchy with a nice flavor. The paneer was also pretty good, for it was very fresh and had a tangy taste. Decent starters, but nothing out of the world. I was told that their starters are the best part of the meal, but I wasn't really impressed.
After finishing with the starters, I walked towards the spread to check out whats on offering. While they had covered most cuisines, it wasn't exorbitant either. I started with some Pani Puri and Dahi Papdi, and both of them turned out to be good. I actually loved the Dahi Papdi.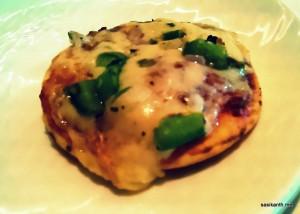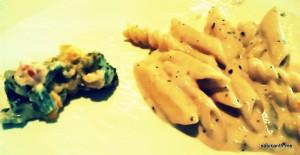 On Italian front, apart from the Mini Pizza, they had Baked Vegetables and a live pasta counter. First serving of the pizza was thick and soggy while the second turned out to be good. I asked for some pasta in white sauce, which turned out to be alright. I thought the sauce was too thin, and adding a couple of vegetables could have made it better. There was very little of the Baked Vegetables left in the bowl on the spread, most of it dry. I was apprehensive of its taste, but it turned out to be delicious, way better than the pizza or the pasta.
Next I headed out to try their Chinese offerings – Noodles, Fried Rice and Dumplings in Manchurian sauce. But for the Manchurian sauce being a little sour, the rest tasted decent.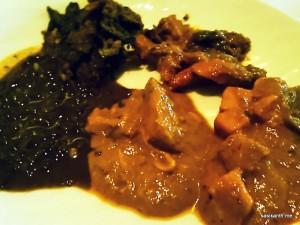 Heading towards the Indian section, they had Paneer Makhni, Nargisi Kofta, Veg. CHatpat, Jaipuri Bhendi and Dal Makhni. They also had Kadi Pakodi which I didn't taste. All the curries tasted good along with the Butter Naan and Kulcha served along. The kofta was the best of the lot, with the gravy being thick, creamy and yummy. The paneer also tasted very good.
I had a taste of the Biryani which like in any other buffet turned out to be mediocre.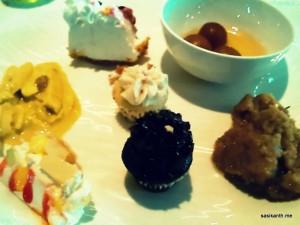 For desserts, they had Badam Moong Dal Halwa, Angoori Gulab Jamoon, Mango Malai Marvel, Blueberry Cheesecake, Truffle Pudding and Cupcakes on offer apart from cut fruits and four flavors of ice-creams. But for the cup cakes, everything else turned out t be delicious. I loved the Mango Custard and the Cheesecake the best (though it wasn't the best cheesecake, it tasted yum).
Overall, an average meal. While most of the food was good, I thought there was still scope for improvement. However, I was very very unhappy with the service and ambiance of the place. I do understand that the place is packed on most occasions and it gets difficult to manage, but lack of basic courtesy by servers and stewards is unacceptable. Apart from the dumping of food on one of the three plates at the table, when I asked a waiter to get me some Naan, I was indifferently asked to instruct the waiter at my table instead. How was I supposed to keep tabs on who was responsible for my table when there were at least five people attending to us in the hour we sat there?
And add to that a fish market kinda ambiance. There were quite a few customers standing and eating their food at the buffet itself instead of moving to their tables. This continued for really long, to a point where I had someone standing over my head and eating desserts (for I was seated right next to the spread). Irritated, I had to complaint to the manager before he made them move to their tables.
Small details make a big difference, and such details were not attended to at A'la Liberty. The food wasn't out of the world good wither for me to disregard the other major flaws. I doubt if I'd ever venture back to this place again (I'd rather prefer a more reasonable spread at Ohri's Jiva Imperia).
Food: 8/10
Service: 5/10
Ambiance: 5.5/10
Buffet for 1: Rs. 460/-
Verdict: 6.5/10