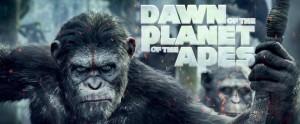 In my opinion, Rise of the Planet of the Apes wasn't a great film. While I enjoyed a couple of episodes, I was left wanting for more. The more is delivered by the sequel, Dawn of the Planet of the Apes, but…
A little into the near future, when civilization has almost gone extinct because of a virus, Caesar, our beloved ape, leads a new generation of intelligent apes. They soon realize that a bunch of humans with tons of artillery exist in nearby lands and need to access the forests to fix their power source. While most apes do not trust humans, Caesar does, and allows humans into their lands. The rest of the story is about whether his trust is reciprocated. Scripted by Mark Bomback, Rick Jaffa and Amanda Silver, the movie has better storyline than its predecessor. There is much substance and better emotions. While direction by Matt Reeves is almost perfect, my only problem was with the pace of the film. Understood that the director was trying to convey emotions and make a point, but I was kinda perturbed with its snail pace. There were times it felt more like drama than an action film. I also quite didn't understand the human storyline much.
On acting front, Andy Serkis is absolutely brilliant as Caesar. Though it is performance capture, you can actually see his face on-screen. He actually outruns his own performance as Gollum in the LOTR series with this one. Toby Kebbell also comes up with an excellent act as Koba. Jason Clarke is decent as Malcolm, while Gary Oldman is pretty good in his brief appearance.
Music and background score by Michael Giacchino is way better than the predecessor film. Cinematography by Michael Seresin is a definite asset. Editing by William Hoy is decent. While the 3D effects aren't worth a mention, the visual effects were very good.
Is it worth your time and money??: But for its snail pace, Dawn of the Planet of the Apes ain't a bad film. If that doesn't bother you much, give it a watch for Andy Serkis and the visual effects.
Worth mention: The climax fight. It was quite spectacular.
Acting: 8.5/10
Story-Screenplay-Direction: 6.5/10
Technical Aspects: 7.5/10
Verdict: 7.5/10