Place: Habanero
Location: Above Starbucks, Opposite Trident, Hitech City
Cuisine: Mexican
Meal: Dinner
Was invited to the opening of the new Tex-Mex restaurant in town, so dropped in to give it a shot. The place was very well done and the ambiance was pretty neat. There were few other foodies invited along with me, and we were also seated in the private dining area.
The owner of the brand and the chief chef came in to greet us foodies and make us comfortable. They briefed us on the brand, the variety of food, and the experience one can expect at Habanero.
Chips were served as we settled down, with three different types of Salsa – Spicy Chilli, Cucumber and Papaya. I liked the chilli sauce but wasn't really impressed by the other two. The tortilla chips on the other hand turned out to be light and crispy; perfecto!
The veggie crowd soon ordered for a portion of Macho Nachos, Jalapeno Poppers, and Queso Dip.
The Nachos came in first and looked quite loaded. Tons of veggies, salsa and sour cream with yummy cheese – perfect way to start the meal. While the chips tasted yum, I would have preferred more cheese topping.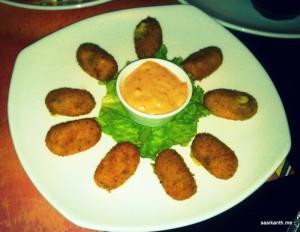 The Jalapeno poppers were in next and were served with a flavoured mayonnaise dip. These were good but nothing spectacular; the cheese was there but the jalapeno weren't ripe, and so the required punch was amiss. Apparently, the restaurant has been facing problem sourcing the right quality jalapeno. They did serve a variation with chopped jalapeno instead of stuffed ones, and this turned out to be more of cheese poppers than jalapeno poppers (not that I was complaining 😛 ).
The best of the lot however turned out to be the Queso dip. It was served along with some more chips, and man, it was excellent. Creamy and cheesy, just perfect. We were so in love with it that we ordered for another portion; this again tuned out to be excellent and was finished in a blink. So we now ordered for a third portion; and bam! This now turned out to be the worst dips I've ever tasted. The creamy cheesy dip was gone and this one turned out to be some kind of gooey stuff with absolutely no taste. One of the foodies actually said it tasted like broken cream. Disappointed.
Anyway, while the Queso saga was on, we ordered for more starters; Messy Bean Dip, Zucchini Fritters with Tomatillo Relish and Tostada Salad. I was also tempted to taste the Chilli Cheese Fries, so ordered for the same. But before that came my drink – Softie Colada.
This turned out to be a refreshing drink; it had a distinct coconut taste, and was as perfect as it could get.
The Messy Bean Dip arrived again with more chips. This turned out to be good, but I would have preferred it to be a little more spicy. It actually reminded me of the Rajma curry we make at home.
The Zucchini Fritters tasted very different from the regular stuff, and turned out to be excellent. The Tomatillo sauce (Tomatillo, also called Mexican Tomato, is a kind of gooseberry) had a tangy taste to it and went perfectly well with the zucchini. One of the best dishes of the day!
The Chilli Cheese Fries turned out to be another version of the Macho Nachos. The cheese sauce was good, but the fries were very soggy. I had to eat this using a spoon and fork, so you can imagine. They weren't bad, but definitely didn't suit my palate.
The Tostada Salad turned out to be a Tortilla topped with different veggies. The crunchy base actually made this taste good.
While we were munching on the food, the chief chef Dan walked in to make some Pico de Gallo salsa for us. He actually wanted to make Guacamole, but they were out of avocados, so. He started from scratch, and voila, in about 5 minutes, we had another dip to taste.
This turned out to be a very very spicy dip, with the spice hitting the throat after a while. Though I was almost in tears, I enjoyed it.
While we were stuffed, it was now time to taste the main course; Tacos and a Chimichanga.
Two stuffed Tacos were served along with Mexican rice, salad and sour cream. While the Tacos were good, the rice turned out to be disastrous. It was uncooked and lacked any kind of flavor.
The Chimichanga, served with same disgusting rice, turned out to be crunchy and stuffed well. It could have done with a little more cheese stuffing though.
Finally time for desserts. We wanted to have the Molten Mexican Chocolate Cake (stuffed with chili powder) but they were out of it. We wanted to have the Tres Leches Cake, and they were out of it as well. They were actually out of everything but for Churros and Snickers Chimichanga. While I prefered neither, Chimichanga it was, again.
And as I guessed, this wasn't for me. Too sweet for my liking!
Overall, an average meal. While some of the dishes were very good (Queso was exceptional but only the first time around) consistency seemed to be a major issue. Actually, a few days after our gathering, there was another foodie meet here, and most of them complained about the food. Not surprising as we experienced something lack of consistency in a single meal. So that's something they definitely need to work on.
Food apart, the place has great ambiance, perfect for small parties and get-togethers. On money front, everything seemed reasonable, and I was told that they are cheaper than competition.
So give it a shot. You may expect good food, but nothing exceptional (please don't curse me if you have a terrible experience 😛 )
Food: 7.5/10
Service: 8/10
Ambiance: 8.5/10
Meal for 1: N/A
Verdict: 7.5/10