Place: The Thick Shake Factory
Location: Food Court, Manjeera Trinity Mall, Kukatpalli
Meal: Dessert
People have been raving about how good the shakes are at this new place in Manjeera mall. So finally, after a movie at Cinepolis last week, I got to try it myself. I asked the guy at the counter about their best offering, and he suggested Choco Brownie Crumble. I ordered for it with whipped cream (additional).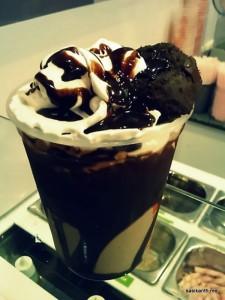 It took about 10 minutes for the shake to be made. It looked good but I was disappointed with the quantity served. On taste front, it was really thick (as it should have been), and was yum. The whipped cream was delicious, but the brownie could have been better.
A yummilicious shake, but I wasn't really happy overall. I paid close to 200 bucks for the shake, and it really didn't seem like value for money. Maybe it's something you can afford once in a while, but definitely not worth on a daily basis.
Food: 8/10
Service: N/A
Ambiance: N/A
Shake with Whipped Cream: Rs. 184/-
Verdict: 7/10