Place: Viva Italia
Location: Ground floor, White House, Next to Lifestyle Building, Begumpet
Cuisine: Italian
Meal: Dinner (with couple of friends)
I've been to my favorite pizza place in town quite often since I wrote the last review in April. This time around, dropped in with my friends (I've been meaning to drag these guys here for a while now and finally succeeded). We dropped in for dinner, and were cordially greeted by the co-owner. We made ourselves comfortable at one of the three laid out benches.
I ordered my regular Garden Pizza and my other friend ordered a Pepperoni Pizza. My third friend, who happens to be very choosy about his food, asked for a Veg Club Sandwich without cheese and with less mayonnaise. We also ordered some Garlic bread.
The Garlic Bread was served in about 10 minutes. The bread was very good and the garlic sauce on top was yummy. We asked for some pizza sauce to dip the bread in, and with it the bread tasted even better. We loved it so much, that we ordered for a second portion.
The Club Sandwich was served next. My friend was very happy with it for it was just as he requested it to be.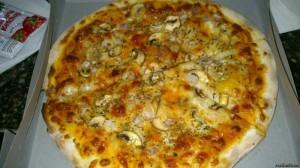 It took unusually long time for the pizza to be served, but it was totally worth the wait. Crispy thin crust pizza with cheese melting in your mouth, amazing!! I actually thought the pizza was better than the last time I had it. My friend loved his Pepperoni pizza as well.
To finish things off, we ordered a Death By Chocolate from Sweet Chill. It was chocolaty, yes, but wasn't as good as we expected it to be. There was a lot of cherry under the ice cream, which kinda ruined the taste.
Overall, except for the desert, a yummy meal. I've already stated this to be my favorite pizza in town, and it didn't disappoint. If you still haven't, go try it now!!
PS: I did mention in my last review that this is a very small place. It is no fancy Italian dine-in restaurant, but just a kiosk in the White House building. So don't walk in having these huge expectations about the ambiance. They serve good food, and that's what matters, doesn't it?
Food: 9.5/10
Service: 9.5/10
Ambiance: 9/10
Meal for 3: Rs. 628/-
Verdict: 9.5/10