Place: Sagar
Location: 37 Panton St, Leicester Square
Cuisine: Indian
Meal: Dinner (with family)
On: Saturday, 3 September 2022
After exploring the city with my brother and his partner, we decided to hog at Sagar located on Leicester Square. It was about 6:00 PM, so we were the only ones at the restaurant and settled down at a large table towards the end of the place. The ambience was alright, but the tables were placed too close to each other and made the restaurant look cramped.
After a long day, we were really hungry and ended up ordering a lot of food. We did a portion of Dahi Poori, a Gobi Manchurian, a portion of Mattar Paneer, Bhindi Bhaji, Fried Dal, a Batura, Stuffed Paratha, plain Paratha and a couple of Chapathi.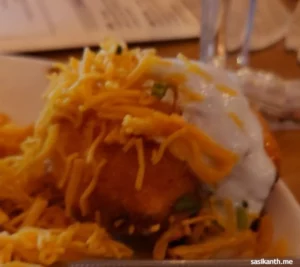 The Dahi Poori was served in about ten minutes and tasted alright. I thought that the stuffing could have been better, and a little more tamarind chutney would have helped.
The Gobi Manchurian was served next, and this was very good. The gobi was crispy, and the sauce was tangy. We were really impressed and hoping for a good meal.
The main course soon followed suit.
The Mutter Paneer was mild and tasted good, but I thought it was a little too tomatoey. Also, the paneer pieces were chewy.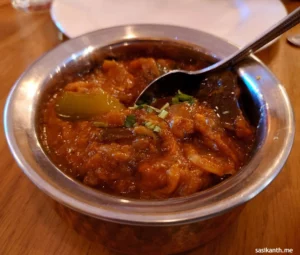 While we had asked for Bhindi Bhaji, we were instead served Brinjal Bhajee because of some communication error. While they agreed to replace, we asked them to keep it, and this actually tasted good. The brinjal was well cooked and the masala was perfect. This turned out to be the best of the main course items.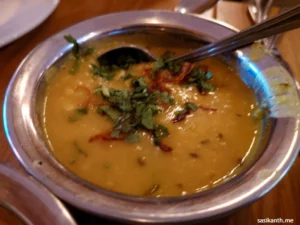 The Fried Dal was good, nothing spectacular.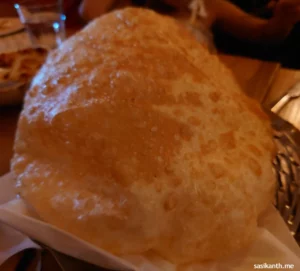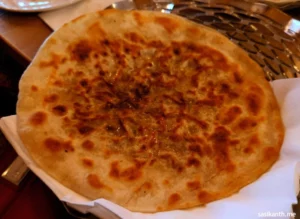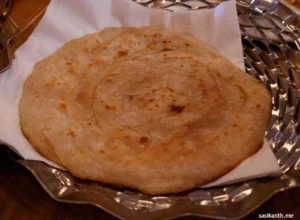 Of the bread, the stuffed paratha was the best, the batura was a little too oily, and the paratha and chapati were decent.
I was still craving more food, so ordered a portion of Chilly Paneer and Vegetable Fried rice, which were served soon.
While the Fried rice was mild and palatable, the Chilly Paneer was a disappointment. The paneer was really chewy and the sauce too wasn't great. Compared to the Gobi Manchurian, this was a big flop.
Overall, a decent meal. But for the Gobi Manchurian, nothing made an impression. I also felt that the dishes were aimed more at the English audience rather than Indians, and this was one of the reasons why we didn't relish everything. Also, while the prices seem reasonable, the 12% service charge doesn't match the mediocre service. Given the options around, I don't think I'll be coming back to this place again soon.
Food: 7/10
Service: 7/10
Ambiance: 7.5/10
Meal for 6: £81.84
Verdict: 7/10