Place: Mumbai Dosa
Location: Anna Bazaar, High Rd, Wembley
Cuisine: Indian & Chinese
Meal: Dinner (with wifey and our lil one)
On: Thursday, 9 June 2022
While we were craving some good food, we came across this small joint at the far end of a bazaar at Wembley, and boy, we were glad to find it. It's a small setup with about 6 tables placed close to each other and the ambience isn't appealing at all. However, the easy-on-the-pocket food tastes great, and so, we've been dropping by this place almost every time we're in Wembley.
This time around, we came in at about 7:00 PM, before heading for a movie on a weekday, and while the joint was packed, we were able to find a table in the corner. This is more of a fast-food joint, so the tables are shabby and unclean, and this was the case today as well.
It's a self-serve restaurant, so I walked up to the counter to order a Sweet Corn Soup, Crispy Baby-corn, Veg. Manchurian Fried Rice, and a Paneer Biryani. Do note that the lady at the counter might seem rude for she's always multi-tasking, but she's actually very sweet.
Given that the place was packed, it took long, longer than expected for the food to come. While we'd hoped for the Soup to come first, the Fried Rice was ready after about 20 minutes.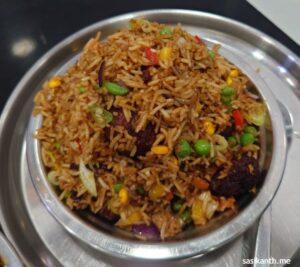 I tried their Manchurian Noodles a while ago which were decent, and was looking forward to tasting the fried rice. Full of vegetables and some chopped Manchurian balls, this turned out to be delicious and better than the noodles. It was spicy enough and reminded me of the bandi fried rice you get back home in India. For £7, the quantity is abundant unlike most of the recent restaurants I've been to. Yum!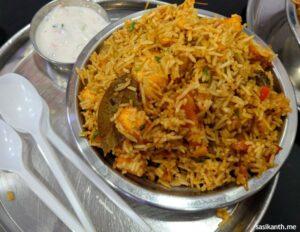 The Paneer Biryani came next and this again was equally good. Loaded not just with paneer but also vegetables, the biryani was full of flavour. Wifey preferred this over the fried rice.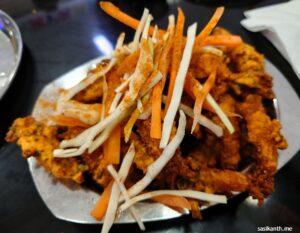 The Crispy Baby-corn tasted good. They were crispy, yes, but if not for the chaat masala sprinkled on top, were bland.
We were struggling to finish these three items and also running late for the movie, so requested for the soup to be packed. We also asked for a Fruit Salad with Ice-cream to go. While the Fruit Salad was decent, the soup was passable; it also had a lot of vegetables but was very thick and had too much soy sauce for my liking.
Overall, an excellent and sumptuous meal. The joint is badly maintained and needs an uplift, yes, but the food makes it up. Honestly, I wouldn't recommend or go to such shabby places myself, but for the tasty and bang-for-buck food, I overlooked the mediocre ambience. The taste and quantity of food are better than the Saravana Bhavan located two blocks away. Do give this place a try if you're in the area; I'd suggest to go!
Food: 8.5/10
Service: N/A
Ambiance: 4/10
Meal for 3: £20.50
Verdict: 8.5/10